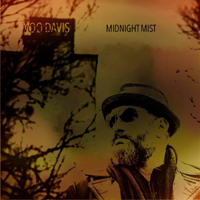 Chicago-Based Blues / Roots Guitarist Voo Davis Creates a Midnight Mist on His New CD. Before this, there was his excellent album 'Vicious Things' (2013), which got my attention in the first place (even before listening), because it had been recorded in my favorite historic studios: Dockside Studio Maurice and Studio in the Country Bogalusa, both in Louisiana. Then, a little later, I found out what a great artist Voo is, he plays a mean slide guitar, but he is a very nice guy!
Voo's BIO:

CHICAGO, IL – Guitarist / singer Voo Davis announces a release date for 'Midnight Mist', the third CD from this talented musician whose musical sound gumbo encompasses the roots of blues, with additional flavorings from Americana and jam band spices. Produced by Davis and recorded in organic analog sound at Bogalusa, Louisiana's Studio in the Country, 'Midnight Mist' includes a bonus video of "Riverside Blues", filmed in and around Clarksdale, Mississippi, that perfectly captures the spirit of the new music on the album. The video was directed and edited by Voo Davis himself.

"Being able to return to Studio in the Country (where Stevie Wonder, Blues Traveler, Frankie Miller and Kansas recorded) and expand my guitar sounds was something I really looked forward to on this project," says Davis about the recording sessions. "The tones were something that I really wanted to play with, not just get stuck on one sound." Guitar tones are something of a specialty with Voo Davis, who played an assortment of vintage guitars, as well as pedal steel, mandolin, and keyboards, including all the instrumentation on two of the album's fourteen tracks. Joining him on 'Midnight Mist' are Craig Borchers (drums); Michael Burkart (Hammond B3 organ); Reggie Winterland (bass); Calvin Conway (harmonica, fiddle); Carolyn Broussard and Dorian Rush (background vocals).

Coming off the critical success of his last album, 'Vicious Things', Voo Davis continues to build on the momentum of what has come in the past with a keen eye toward the future. While all three of his albums show differences, the common thread among all of them is Voo's ability to mix genres of music and blending them into a common thread that flows naturally in each release.

"'Midnight Mist' isn't like my previous two albums, but I think it's a mixture of both with a more mature side," he states. "The difference between the first two and this one is that on 'Midnight Mist' the song took precedence."

A non-believer in slick computer fixes, Davis uses the one-take approach throughout the new disc, relying on musicianship instead of computers, emotion instead of effects. The result is an album that has a live performance feel to it with an energy level that is palpable. "We recorded the album in three days, two of which were spent on instrumentation, and on the third day I finished up vocals. I was ten hours in the booth that day and if something didn't work the first or second time we moved on."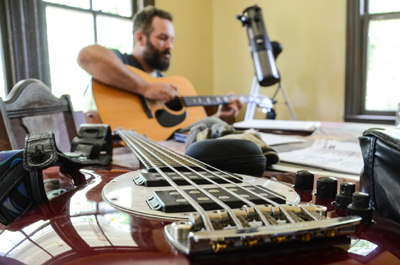 --
Born in Anniston, Alabama, Brian 'Voo' Davis' love for
music began at an early age. While Davis grew up with AM radio, his past was stocked old 45s of Motown, Sun, and British sensations of the 50's and 60's.
He moved with his family to Chicago while still a child, that transition helped embed his Alabama clay roots musical foundation with some Chicago juke joint flash. The resulting sound mix permeates throughout his overdriven acoustic slide guitar playing style. Touring with former Koko Taylor guitarist and Blues Music Award-winner Eddie King, Davis learned to travel the blues circuit and sharpen his craft alongside one of the best. Critics began to take notice, too: Illinois Entertainer hailed Davis' vocals as "built for the blues"; while iTunes called him "one of those rarities who takes his music to the same ol' hangouts but finds something new and revelatory in the experience"; and Goldmine Magazine summarized its review by describing his music as a "Hendrix / Buddy Guy / RL Burnside combo of blues-rock chops".

His 2012 basement recorded release, 'A Place For Secrets', spent seven months running through the Americana and Roots Music charts respectively, while surprising the Blues / Americana music scene with an overdriven acoustic mix of slide based guitar songs. While personal tragedy, with the untimely passing of his wife in 2009, motivated the young guitarist back to music, the songs Davis has created since that time have been called "lyrically encouraging".

The lack of genre persists on Davis' music as he mixes several styles effectively. With influences of Blues, Jazz, Rock, Country and Jamband it can only be described as 'Americana' on today's scene. With 'Vicious Things' the former blues circuit guitarist moved from the basement to two of Louisiana's top recording studios and added four other Chicago based musicians with various backgrounds to record an album on Neve boards, with an analog sound. No autotune, no big computer fixes, just humans making sounds. A trait he learned on the road with WC Handy award winner Eddie King.

While Davis' delivery sparks quotes like... "understands blues deep in his soul... It is his guitar work that truly stands out as extraordinary however". With a distinct distorted acoustic slide sound, there is a reason much of Davis' time is spent touring states like Louisiana, Tennessee and Mississippi.

Brian 'Voo' Davis' ripping acoustic slide guitar playing is just one layer of the multi-instrumental guitarist / singer / songwriter / producer. When his family moved North, Chicago blues started mixing with Alabama clay and when Alabama clay mixes with Chicago flash > the result is Voo Davis. (Brooke Bartlett)

Voo's ALBUM:

Southern soil and Chicago grit came together to create the sound that rises from his acoustic slide playing (The Alternate Root).

Now, with his third studio album, 'Midnight Mist' in four years, Voo Davis looks to advance his sound and solidify his place on the music scene. With a passion for lyrics and a gift for creating emotion with a guitar, Davis encompasses all that is right about an independent musician in today's field of millions. It brings genres together instead of separating them into a neat package of similarity. It's a real album in the day of the one song release. And more importantly, it's a continued story of a musician who deserves the spotlight and who's been called 'A budding talent who is so much more than a screaming guitar' (Cantopia Wordpress).
The nicely packaged album starts off with "When I Get Back To You", a sturdy blues track, showcasing Voo's impressive ragged vocals and most of all: his incredibly skilled (slide) guitar playing! The B3 organ adds a very nice touch. Title track "Midnight Mist" begins rather quiet, with some acoustic guitar, offers us the presence of a mandolin and the haunting sounds of a pedal steel, building up to an epic jamband climax with great solos on the electric guitar and ending quiet again. "My Love" features very loud bluesrock, where Calvin Conway's harmonica never gives way and demands well-deserved attention. Ah, "Cajun Sun" offers a beautiful meandering melody, Calvin also plays fiddle here. Favorite! "Riverside Blues" develops as some kind of power piece, with incredible slide guitar throughout. Pace slows down a bit for "Low Hangin' Fruit", the acoustic slide guitar in a fierce duet with the harmonica, organ and electric guitar watchful in the wings. "Howling Out Your Name" starts off -indeed- with the sound of howling winds and Voo, adding a little echo effect to the microphone, plays all the funky parts here - I even hear a cello. "Find Me A Blackbone" goes back to a traditional pattern of the electric countryblues, more microphone effects make this sound like a feverish field recording of snake handling from days long gone by. This song is co-written by Dan Rinenbach. For

"Nothing Changed At All"

Voo tries to relax a little, creating a gorgeous sound with his acoustic and electric (slide) guitars, based on a fine hypnotic rhythm, Calvin plays harmonica as well as fiddle parts. Another favorite. There must be a reasonable amount of overdubs, but the recording is so good, that this album sounds like all of it was flawlessly recorded at once.
"Music In The Streets" goes back to the funky bluesrock and this short track does impress me the least. "You Gotta Wait" gets a beautiful old school soul organ sound, after the strange little take-off. The last regular track, slow "Laughing Out Loud" also has a classic 70s soul or if you want: Tony Joe White like vibe, with more beautiful relaxed sounds, Voo plays, besides his guitars, also the Rhodes piano here.
Then we get to the bonus tracks. "Void" has a very interesting sound, the intimate vocals sung more closely into the microphone. Voo plays all instruments himself again and gets more in the folk singer-songwriter mode. Can I pick a bonus track as my third favorite?

"You Wanna Know Why"

gets loud and spicy again, in jamband fashion, with some outstanding parts by fiddle, piano and of course the guitars. There's also a video of "Riverside Blues" included on the disc.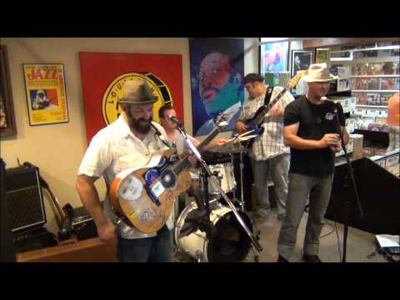 Voo is very good at mixing other genres and influences with the blues, incorporating the soul, funk, country and folk flavors into these tracks, instead of hopping from one unexpected sound to the next. 'Midnight Mist' is an album, not just a collection of tracks and the sequence is well thought out.

While it is sometimes difficult, even for avid rootsmusic lovers, to tell one blues guitarplayer from the other these days, Voo Davis stands out. He is very creative in bringing something new to his skills all the time, not just playing one blistering solo after another.

I keep forgetting Voo lives in Chicago for a long time already, he sounds as Southern as can be. Not quite Sonny Landreth yet (there's only slide guitar god), but almost getting there, in the blues ballads I hear sometimes the gritty compassion of Drew Landry, for the more traditional soul songs I could fill in names of quite a few stars from the past. Long tracks, to a total of 62 minutes of music, the video not included - which means you'll get lots of value for your hard earned money. Just too bad, there are no lyrics included, I wish Voo had printed them on the inside just like he did for the previous release, but he promised me he will post them on his website!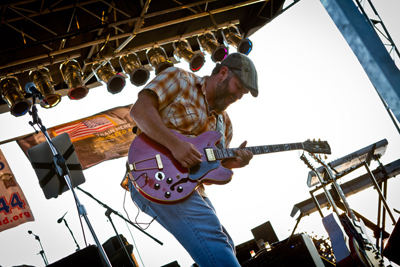 Voo's Interview (
from Blues Greece by Michalis Limnios, May 2014):
Voo Davis: Free Bird Sings The Blues

Question: What do you learn about yourself from the blues and what does the blues mean to you?

Voo Davis: Blues really means many things to me. I think about the history of the old recordings and the people who made them and think about the people that are making albums today. I love the history of the music and I guess I've learned that I'm a link in a very long line of musicians making music.

Q: What experiences in your life make you a good bluesman and songwriter?

VD: The experiences in my life have helped and often times give me a place to start a song. I think playing with many of the great ones helps Like Frank Bang and Albert Castiglia did but you really have to steer off course and make your own path. After I played with Eddie King, I got away from music for about a decade, I got my masters degree in education and began a very rewarding life as a teacher but always thinking about playing again. Then in 2009 my wife passed away due to a blood clot and she was so so young. I started using music as a creative outlet and started writing songs. Then, before I knew it I had all these songs and didn't really know what to do with them. Realizing that life was so short and seeing it up close made me move back in the direction of music and work harder at it than anything I've done before. Have those experience impacted my songwriting? I would say without question.

Q: How do you describe the 'Voo' Davis sound and progress? What characterizes your music philosophy?

VD: Well, I think this is where I differ from many blues artists because I try not to limit myself to one particular 'sound'. I'm trying to focus on the song, the song is the most important thing and my philosophy is: I don't care what the genre is, the song will take on its own shape and it shouldn't be fit into a neat little box of one genre. I knew that with the last two albums blues traditionalists would say it wasn't 'blues' enough and I guess I could debate what blues is, but that's a fools game. I just write the songs and let the critics say whether it's blues or not. And I can tell you, it's blues in Clarksdale, Jackson, and Ocean Springs, Mississippi so to answer your question, my philosophy is not to pigeonhole myself into one particular style and to be free to explore sounds and inspirations.

Q: Why do you think the Blues music continues to generate such a devoted following?

VD: You know, I remember playing a show at Eddie 'The Chief' Clearwater's bar back in about 2000 and this magazine crew came in and shot some pictures and hung out and it was a ton of fun, but then when the article ran it was something to the effect of "Can Chicago withstand another Blues Club" considering that it's a dying art form. Well, many people have been talking for years about blues dying and I would say that it's stronger than ever. I mean every other festival is a blues festival. And they are packed! I think the realness of real people making real music with real instruments without autotune and other computer aided devices lends itself to something people feel a close connection with. And you can also build a great relationship with the people making this music, very few of us feel and act like stars and are really grateful for the opportunities and the people we get to meet.

Q: What are some of the most memorable gigs and jams you've had? Which memory makes you smile?

VD: There are several but Chicago BluesFest 2001 with Eddie King was a fun gig. We went on after Ike Turner's band and I remember seeing Chuck D from Public Enemy in the audience. Strange but also so surreal that I can't help but smile when I think about that day. Some of my more recent shows in Mississippi, Tennessee, and Louisiana have been a blast. I really feel like I found people that appreciate and respect music there, the most pure sense possible.

Q: Which meetings have been the most important experiences for you? What is the best advice ever given to you?

VD: I really feel those meetings with fans, photographers, club owners and people that just appreciate the music are the best experiences. Hearing someone say thanks for the tunes, and building friendships with people you would never meet otherwise is the best reason for all of this because really it's difficult for many musicians to understand it, but it's not about you, it's about helping people have a good time that's why we are there and that's why we have been blessed with the ability to play the music we play. And as advice goes, I think I learned more by watching than I did from anyone sitting me down and saying do this or that. I was very blessed and fortunate to share the stage with many people who let a 20-something year old kid get up there and give it his best. That's all you can really do, just give it your best every time you play.
I love the history of the music and I guess I've learned that I'm a link in a very long line of musicians making music.

Q: Are there any memories from the late Eddie King which you'd like to share with us?

VD: Well this is a tough one, so many, but I hope the memories translate. Well, one of the best stories is how I got hooked up with Eddie King. I was around 23 or 24 years old and I was playing clubs and coffee houses a ton. In fact I was working between five and six nights a week just doing my own thing. One Saturday night I had a night off and went down to the blues club I played at, called The Cafe in Macomb, Illinois. I was blown away with the power and the energy of this 5 foot 5 inch man (King). After one of his sets he started over to me and he said, "Are you the local guitar player?" And I said I was and he asked me how long it would take me to get my guitar. I said that I would be back in ten minutes. We played all night and it was a blast. He offered me a job that night and gave me his managers phone number. Well, his manager said: "He says that to everyone". I was crushed by that response from his manager. Fast forward two years later. I was at a bar in Chicago called The Red Fish with a friend. The Red Fish was across the street from The House of Blues. I told my friend that night, that if I was ever offered a gig with Eddie again that I would quite my job and take that gig. Well as luck would have it, I walked into The House of Blues and Eddie was playing that night. I was shocked! I walked up to the stage and he looked down and pointed at me. He put his guitar down while the band was still playing and he took me off to the side. He asked me why I never called his manager. I told him that I did but his manager turned me down. He gave me his number and said to call him Monday morning. I did call him and he offered me the job. It was a great experience and sometimes I do believe that things just fall into place.

Q: What do you miss most nowadays from the blues of past? What are your hopes and fears for the future of the blues?

VD: Well, I don't really miss anything about the past, I try to appreciate it for what it was. Howlin' Wolf will not play again, but that doesn't mean I can't still enjoy his old recordings. The same with Stevie Ray Vaughn. My hope for the future is that more musicians open themselves up to different styles. I hate buying an album and the entire album sounds like the first song. But some people like that I guess. I don't really have any fears about blues, I think it's in a great place and the people that don't are just looking for something to write about. B
lues really means many things to me.

Q: If you could change one thing in the musical world and it would become a reality, what would that be?

VD: That all genres and categories of music would go away. I feel that would open up the creative outlets of so many musicians. And many of these musicians would welcome it, because so many are afraid to do anything different or go into a direction that their heart is telling them, because they are afraid of losing an established level of respect and to take that chance would be career suicide.

Q: What are the lines that connect the legacy of Blues with Soul and continue to Jazz and Country music?

VD: Muscle Shoals, to New Orleans, to Clarksdale, MS to Memphis, to Chicago, to Detroit, and back to Muscle Shoals.

Q: What has made you laugh lately and what touched you (emotionally) from the Blues circuit?

VD: Just the good people I'm blessed enough to meet on my journeys. Steve Nails, the owner of Dockside Studios is a sweet man and knew I was a Sonny Landreth fan. So he gave me an autographed copy of one of Sonny's discs, and it's one of my treasured possessions. I've also played in some crazy rooms. I mean I've seen a guy trying to start my keyboard players Nord on fire once... so many memories ranging from the sweet to the crazy and everything in between.

Q: I saw an old picture on a door in a Hotel Room Ground Zero Blues Club. What's been your experience with that?

VD: Oh, you're talking about the old picture of the Old African-American lady holding hands with the young blond haired boy. Yeah, that picture says a lot. We played our first show at Ground Zero, slept in the bus and they were kind enough to let us use one of the rooms to get cleaned up on the next day before we left town. That picture was taped to the door and it truly speaks a thousand words. I think some people view Mississippi as a racially divided state and while there are those types in every state, what I have seen of Mississippi is love and unity between races and I think that picture taped to the wall spoke to that regard. It was one picture I'll never forget.

Q: Let's take a trip in a time machine: where and why would you really wanna go for a whole day?

VD: Wow, I could get deep with this question, so I'll assume you mean musically. I wish I could have watched Robert Johnson record at the Gunter Hotel in San Antonio, Texas. That would have been a sight!
Written & compiled by Johanna J. Bodde - May 3rd, 2015.
=====