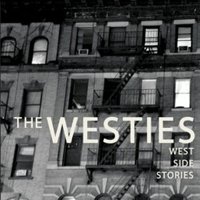 "Call it Ameri-gangsta-cana". I will! I never liked the word 'americana' much anyway... The Westies play songs about love, betrayal, murder, hope and redemption.
We might know Michael McDermott already from some very good solo albums. I have 'Ashes' (2004) and 'Noise From Words' (2007) in my collection, but he made several more. His life story reads like a novel: as a twenty-year old kid of Irish descent living in a Southside Chicago neighborhood, he played his songs at the coffeehouses. A young A&R representative, Brian Koppelman, signed him to a big label and Michael recorded his first album '620 W. Surf'. Before he knew it, he was heralded by the music media as 'the new Springsteen', even famous author Stephen King made him compliments. Unfortunately, just as fast as it came, the hype ended again. "By the time I was 24, I was over," Michael says. "Really, I was kind of over." With no idea how to reconcile his future path with his sudden dream-come-true life, and no one he trusted enough to guide him, he responded by going off the rails, living the rock&roll fantasy of drugs, alcohol, fast lane parties, strippers, mobsters, jail... you name it, he did it. Parts of the movie 'Rounders' (1998) were actually based on his life, when Brian Koppelman went on to become a Hollywood screenwriter.
The meeting with his future wife and mother of their baby girl, happened in the same style.
He looked at her at the end of the bar and said: "I don't know whether to kill you or marry you". And so the shot was fired across the bow, and with it… The Westies were born. The meeting on that fateful night between Michael McDermott and Heather Horton set in motion a chain of events that would lead to the introduction of their new band in 2013 and what would eventually be known as the album 'West Side Stories'.

After just avoiding a prison sentence, things spiraling out of control, Michael's chance meeting with Heather would change the course and the trajectory of his life. What followed would be a steady climb from the trenches. With a 'sleeves rolled up' songwriting approach, that - while delicate and tender, matches with equal measure, the brutality of an honest eye and a turbulent life. Michael explains:
"All I ever wanted to do was write songs and tell stories, like my grandparents and parents did from a long Irish lineage. With that lineage came a proclivity for drink, for mayhem, and a wee bit of crime. I write what I know and what I know, is much of the time, ugly."
This is no guy/girl group. It is a collective of musicians that rotate in and out depending on availability,
around Michael McDermott and Heather Horton.
The Westies are a band that unabashedly confronts the trials of the inner city heart with a slow burn delicacy that juxtaposes many uncomfortable subjects with a tender and elegant beauty that is rare in the current music landscape.
More folk than rock, The Westies are a rootsy band with

Michael McDermott (acoustic guitar, vocals); Heather Horton (fiddle, vocals); Joe Pisapia (electric guitar); Lex Price (bass, electric guitar); Ian Fitchuk (drums, piano); John Deaderick (additional piano).

It's classic McDermott, but this time through the eyes and soul of his faux-famous alter ego, Johnny Darkstar.


Although fame has eluded Michael, he has the rest of the act nailed, and twenty years into his career he isn't lost or misplaced, he has found himself.

Michael McDermott's story is the classic tale of survival, perseverance, love and redemption.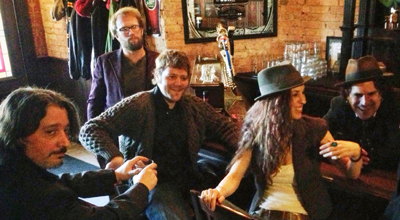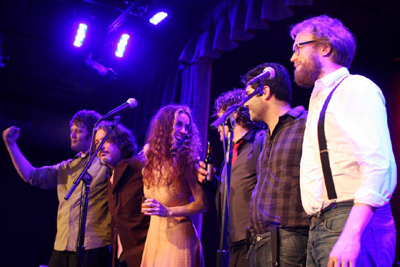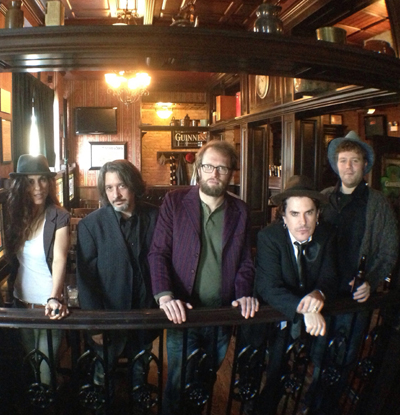 The album
'West Side Stories'
is a song cycle inspired by the real life Westies, Hell's Kitchen's most notorious Irish-American gang of undeniable notoriety: "A ruthless gang of Irish mob punks that ruled Hell's Kitchen in the 60's and 70′s". The gangsters serve as a metaphor for the dark side that lurks inside us all. The unexplained forces that cause internal struggles, destroy relationships and leave us clinging to love as just a memory.

Quoting T.J. English, New York Times best-selling author of 'The Westies and The Savage City':

"Having written a book called The Westies, which I'm told may have served some small role as inspiration for this music, I wish I could claim credit for its brilliance. But I can't. What you experience while listening to The Westies debut CD is wholly original. Singer/songwriter Michael McDermott and his band follow in the tradition of Dylan and Waits and Springsteen, but they tread new ground. Lyrically, the ten songs on West Side Stories are haunting tone poems about loss and regret and trying to hang in there against insurmountable odds. The music is almost painfully intimate; McDermott's vocals ache with passion. Accompanied by backup singer Heather Horton, who swoops in with ethereal harmonies or the occasional chorus of her own, the arrangements are graceful and profound. These songs will not only stir your emotions, they will make your heart bleed… Do yourself a favor, seek out 'West Side Stories', listen and absorb this music. You will feel as though you have entered the church of rock and roll, a place of great storytelling, humanity and emotional wisdom. Let The Westies take you there."
-----


The first song

"Hell's Kitchen"

is a great cross between the sound of Del Amitri's "Nothing Ever Happens" and the lyrics of Bruce Springsteen's finer songs. The catchy hook line being "Tonight it's Hell's Kitchen or Heaven's door", it tells about dreams and regrets. After this, we want to hear more! Unfortunately, there's no lyrics booklet coming with this CD. I know all about small budgets, but for an album leaning so much on story telling - it really is a necessity, especially for the European market! The epic track

"Trains"

: "Some come trough the falling snow" and "Some lay pennies on its path", I do like these simple yet compelling images! "Say It..." and

"Fallen"

are beautiful duets with Heather - everybody will see some of the original 'West Side Story' on a backdrop while listening. Real romantic love and... some angry words thrown at each other.

"Death"

("You're gonna be the death of me") starts off with haunting sounds of the fiddle, underlined by some great percussion.

"Devil"

features guest musicians Fred Eltringham (drums) and Daniel Tashian (electric guitar), while producer and bassist Lex Price plays a second electric guitar, to wonderful ominous effect. The Guy Clark styled instant classic

"Bars"

mentions various American towns, even including Biloxi (Mississippi), many people and many miles traveled: "When things start to unravel, you gonna find out who your friends really are".

"Rosie"

is another nod to the works of 'The Boss': "She was evicted from her apartment in Chelsea late last week and she was passing through Chicago on her way to New Orleans."

Superb folk- and rootsrock. Michael's brooding vocal with the rough edges (there's a little of the younger Fred Eaglesmith shining through) fits perfectly with the intriguing yet realistic lyrics, we are right there with him while the story develops. Heather knows how to deliver emotion and longing in her voice, which is a lovely addition, also forming a lighter touch around the often bleak and tragic lyrics, like: "The news came down the line all the way from Michigan", with a little comfort: "Of all the things that matter, was at least we had you for a while" in the long country ballad "Five Leaf". Ending with another duet "Still..." about love - gone wrong but still lingering: "Most nights I wish that we never met".

A very powerful album!
This is not so much about gangs, but a very recognizable dark song cycle about the everyday harsh life in tough neighborhoods, where it takes real courage to survive and stay on until the next week... Until better times, maybe?

Written & compiled by Johanna J. Bodde - January 15th, 2015.