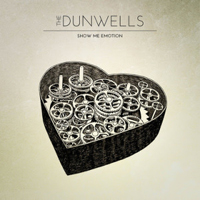 The Dunwells
EP 'Show Me Emotion'
(Concord Records, 2014)
Although it seemed like The Dunwells appeared from out of nowhere with their very successful debut album 'Blind Sighted Faith' (2012), they do have a musical history. The band members started out playing pubs separately in Leeds, England. The two brothers, Joseph and David Dunwell, had been performing as solo acts throughout Yorkshire. The Dunwell brothers recruited childhood friend Jonny Lamb (drums), along with local musicians David Hanson (lead guitar) and Lee Dawson (bass). When a booking agent heard them play an open mic together, she insisted on booking them a show as a group. In October 2009, record producer Dave Creffield formalized their band status by recording them. Rob Clayton, Jonny Lamb's cousin and high school friend, later took Lee Dawson's place on the bass, after Dawson left the band in 2011. Joseph and David Dunwell and Rob Clayton all attended St. Mary's Catholic High School in Menston.

The Dunwells recorded live at ITV Studios in 2009 and also performed on BBC Radio Leeds during the same year. After releasing their self funded debut single 'Elizabeth' in March 2010 (which reached number 31 in the UK Indie Chart), English singer-songwriter Tony Moore spotted the band while they were playing at The Bedford in London. Moore invited the group to the 2011 Folk Alliance International Conference in Memphis, Tennessee. After performing stateside, The Dunwells signed with the Austin, Texas based label Playing In Traffic Records in May 2011. They released their debut album 'Blind Sighted Faith' on 14 February 2012 after recording in Willie Nelson's Pedernales studio with producer John Porter. In June 2012, Playing In Traffic Records struck a joint venture for The Dunwells with Concord Music Group, enlisting the help of George Drakoulias to record the single "So Beautiful". Playing In Traffic Records in conjunction with Concord Music Group re-released 'Blind Sighted Faith' on 28 August 2012 with the addition of "So Beautiful". I checked and I have the earliest version, without "So Beautiful", in my collection.

The Dunwells have played at various renowned venues and festivals, including opening for Mumford & Sons and also playing South By SouthWest in March 2012. After commencing their Summer tour in Austin, Texas in June 2012, the band has been traveling throughout the US and UK, including performances at Austin City Limits, Red Rocks and Lollapalooza. The Dunwells made their US Network Television debut in August 2012, performing their song "Follow The Road" on NBC's The Tonight Show with Jay Leno.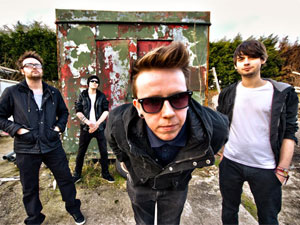 The debut album of The Dunwells was praised for its modern British spin on American roots music. The singing has been compared with Crosby, Stills & Nash and with Mumford & Sons. After several years of playing music together and a time of intensive touring, they make an effort to develop and refine their sound, best described as folk rock. They re-emerge with this special 4-song digital EP entitled 'Show Me Emotion'. Drawn together by their shared love of acts like Bon Iver, Elbow and Damien Rice, they looked to broaden their sound with these new songs. Joseph Dunwell explains: "We wanted to get away from the Americana sound we had been labeled with, stripping back the acoustic guitars, going deeper, Steve seemed like the perfect man for the job." The band was inspired to work with producer Steve Harris (Kaiser Chiefs, Dave Matthews) after hearing the Kodaline song "High Hopes". Looking to track him down, the band heard they'd missed him by just a few hours after a gig in Seattle. In a strange twist of fate, it turns out that Harris lives in Yorkshire, the same county where the band resides in Leeds. Soon after, upon hearing the band's demos he was on board. Despite the hectic schedule of constantly being on the road throughout the last year, the band found time to write new material, mostly during late nights in hotel rooms. The collaboration of The Dunwells with Harris has resulted in a passionate set of songs with heartfelt lyrics that perfectly suit the band's trademark four-part harmonies. Joseph commented on the process: "We were eager to start playing and recording new material and we knew we had loads more to give. This EP marks a change in the band, a massive leap forward in my eyes. 'Show Me Emotion' says it all really."
The tracks:

1. "Show Me Emotion": "Give me one more chance / I need to make it right", Joseph Dunwell pours all the heartfelt emotion and desperation he has possibly available, into these opening lines. We've all been there, trying to hang on - no matter what, to save the relationship! Punctuated by rhythm guitar and dramatic beats, building up into an expressive, layered chorus. When a band only makes a 4 track EP, it better be effective in having an impact and The Dunwells got that right here!

2. "Communicate": The song starts off in a more reflective emotional mood and confidently builds to a cohesive chorus. The theme is still the same, an urgent plea: "Please, communicate!" Lead singer Joseph is showing off his vocal range again.

3. "Sleepless Nights": This was the first track to be released from the EP, earlier in 2014. A somewhat restrained, stripped back acoustic track, that explores the new direction the band was looking for. The airy harmonies create a somewhat uneasy, disconnected feeling of indeed: insomnia.

4. "The Best Is Yet To Come": Upbeat and optimistic from the first notes on! The message is very simple, but convincing in its anticipation. Explaining the context of the song, Joseph Dunwell says: "The Best Is Yet To Come" was written when we got home from the U.S. tour. We were eager to start playing and recording new material and we knew we had loads more to give. The song is about having patience and keeping your head up, you never know what's around the corner." Yes, expect the unexpected!


On this new EP the group explores new sonic territory, letting the acoustic guitars go for a bit, introducing more keyboards and rhythm, also leaning heavier on the trademark four-part vocal harmonies. They show emotions and feelings, straightforward, not being overly sentimental and keeping a positive, energetic and hopeful vibe going all the time in the smartly constructed songs. With this revitalized approach to their music, maybe the best is yet to come indeed for The Dunwells!
-----
Written & compiled by Johanna J. Bodde - January 3rd, 2015.
=====