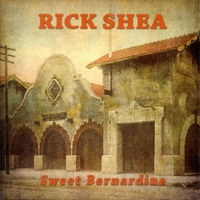 Rick Shea
'Sweet Bernardine'
(Tres Pesacadores Records, 2013)
www.rickshea.com
Rick Shea tours in Europe this Fall - which is a very good reason to pick up last year's album 'Sweet Bernardine' again!

He was born in Annapolis, Maryland to a military family and lived in several Eastern states before moving to San Bernardino, California at age eleven. As a teenager he began playing in local coffeehouses and after he finished high school, many of the country bars and honky-tonks in the area. He plays it all: country, folk, blues and rock. His preferred instruments are: acoustic and electric guitar, steel guitar and mandolin.

In 1992, he was included in the 'Town South Of Bakersfield' series of albums that featured Dwight Yoakam, Lucinda Williams and Rosie Flores among others. Later, in 2001, Rick collaborated with fiddler Brantley Kearns on an album of original and cover songs called 'Trouble And Me'. He arranged and co-produced the album with Dave Alvin.

In 2003, Rick Shea worked with country singer Patty Booker on an album of country duets called 'Our Shangri LA'. That's when I heard him first! The album featured original and cover songs by Merle Haggard, Leona Williams, Pat McLaughlin, Lee Hazlewood and others. Rick also played with Dave Alvin: live as one of 'The Guilty Men", on his Grammy Award winning album 'Public Domain', with Katy Moffatt, I See Hawks In L.A. and with R.E.M. for the soundtrack to 'Man On The Moon'. Besides his own albums, he has also produced albums for The Good Intentions from Liverpool and Chris Richards from Sheboygan, Wisconsin.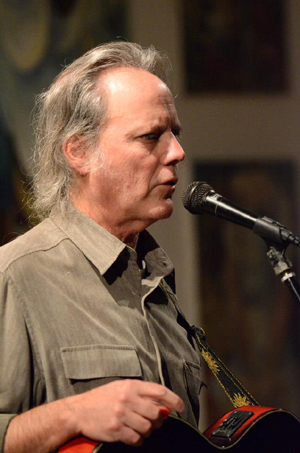 After a great CD like 'Shelter Valley Blues' (2009) the expectations were high. 'Sweet Bernardine' is a concept album of outstanding quality. Reflective and laid-back, just like every day life in California - at a halfway point between the madness of metropolis and the serenity of nowhere, as the blogger at 'Fame' beautifully put it. S
itting squarely on top of the main fault line of the San Andreas, the old railroad town of San Bernardino has seen its share of troubles. This album reflects that and the rock, country, folk and Mexican music Rick grew up with there. It is a collection of his own stories, but also the stories of California and beyond. It's his most personal and compelling album yet. The arrangements are spare and simple, based mostly on acoustic guitar, although Rick does pull out his worn old Fender Telecaster for a couple of tracks and that is a nice diversion. He also plays here dobro, mandolin and pedal steel. Nicole Gordon sings harmony on quite a few songs. The studio musicians are the cream of the Westcoast crop: Skip Edwards (accordion), Bob Glaub and Dave Hall (bass), Don Heffington (drums and percussion), Danny McGough (keyboards), David Jackson (accordion, acoustic bass), Jim Shirey (fiddle), among others.

A storyteller like Tom Russell and of course Dave Alvin, with a tenor voice that slightly resembles Jimmie Dale Gilmore's - while
Rick says: "If I had to compare myself, I would say that when I was younger Merle Haggard cast a long shadow. But since then Dave Alvin, Jim Ringer and all the other music I grew up with has found its way in". In addition to playing in California, Hawaii and other parts West, Shea toured Ireland, the UK and the European continent - he plans to return frequently. "I've always played live shows. From the bars, honky-tonks and coffeehouses I started in, to the shows I do now. It's a chance for me to see people connect with the songs and that's really what it's all about".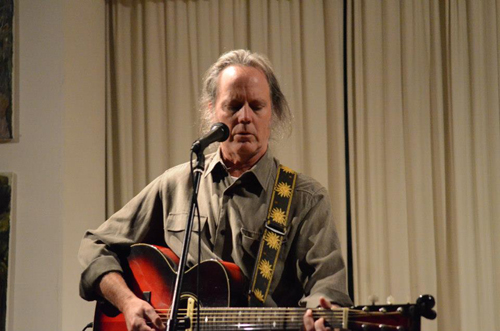 1.
"Mexicali Train"
: Opening track setting the record in motion with a nice driving rhythm and a lovely accordion, recalling
a trip Rick took on
a Mexican train. He is enjoying the sights, thinking of authors Neal Cassady, Jack Kerouac and Carlos Castaneda - while trying to forget a love affair gone wrong and eventually he finds out
that your memories travel along, wherever you go.

2. "Mariachi Hotel": Story about an old hotel (built circa 1889) in Boyle Heights, East LA where, for a time, a lot of local mariachi musicians stayed. Joe Ely has a few songs like this. Skilled guitar picking, accompanied by the mandolin, creates a lazy and dusty atmosphere that fits the slow ballad just fine. Just too bad, that almost nobody has enough budget for a booklet with lyrics these days.

3. "Gregory Ray DeFord": The dramatic true tale of a desperate jobless contractor who turns to bank robbery, after his own once successful business collapses and gets shot by the sheriff's deputy ending a car chase in September 2010. One of many victims crushed by the recession and we all feel the frustration and even some sympathy! Wistful dobro, more acoustic guitar and bass, soulful harmony vocals by Nicole Gordon for this sad Woody Guthrie type of folk ballad.
4.
"Shake It Little Sugaree"
: There is Rick's Telecaster! An uptempo rhythmic blues song with very nice keyboards in the background. Catchy chorus, where Nicole sings along again, this will do great during a concert. I'm not the only one who hears a little J.J. Cale here!

5. "My Darling Lives In Darlington": Back to the folk songs with this uncomplicated sweet ballad. Beautifully sung, the subject is love of course, adorned by a gorgeous sensitive accordion.

6. "John Shea From Kenmare": Celtic folk with fiddle, telling the historic story of Rick's ancestor from County Kerry and his imprisonment during the Civil War.

7. "Honky Tonk Blues": A cover of the Hank Williams classic from 1952. Telecaster time again for this perky blues version, the keyboards are back too and Rick even tries a nice modest yodel!

8. "Sweet Bernardine": In the title track Rick sings lovingly about San Bernardino and its troubled past, but still finds bittersweet melancholy comfort in the old and familiar surroundings. Makes me think of songs by the late great Warren Zevon. Presented with a full country band arrangement and Rick's vocal is more beautiful than ever here, flawless guitar end solo too!

9. "Time To Say Goodbye": Well, hello there, pedal steel guitar! A slow bitter sweet country lament and another showcase of Rick's talents as a singer and songwriter. The words 'unsung hero' come to mind again - not enough recognition!

10. "Streamline Cannonball": A song already written in 1940 by Roy Acuff and played live on 'Folkscene' as a duet with the great Mary McCaslin, a singer-songwriter who made albums with western songs in the 1970s and 1980s, but she also recorded innovative workings of music by Lennon / McCartney and The Who. A very pretty, slow acoustic duet, both vocals perfectly interweaving. Well-chosen end of a fabulous CD. As it was released last year already, I gave it many spins and it still gets better all the time!
A troubadour who creates imagine evoking lyrics, with his slightly haunting voice and besides that - he's an accomplished guitarist / multi-instrumentalist. Rick Shea prefers to let his songs find their own settings, whether that is folk, country, blues, rock or even a Mexican feel. It still results in a nicely balanced CD. His first-person narratives are brought to us in present tense, but filled with the considered detail and romanticism of retrospection. Human, warm, experienced and a little sad. All sung in a relaxed vocal style and an unassuming delivery that leaves the lyrics to do most of the work, underlined by the instruments.
It's like taking a trip - without having to leave the house, I've actually been through San Bernardino a couple of times - but I prefer listening to Rick's songs instead as they impress me more than the actual visit could.
Written & compiled by Johanna J. Bodde - October 27th, 2014.