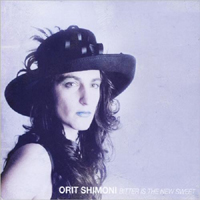 Orit Shimoni
'Bitter Is The New Sweet'
(Self-Released, 2014)
www.
oritshimoni.com
Pictures by Herman Keverling Buisman



On a late, somewhat dark, rainy April afternoon in 2012 I went to Grand Café Rembrandt in Veendam for 'Blueprint Live'. The radioshow with audience, hosted by my friend Thomas Kaldijk and one of the artists he invited was Canadian singer-songwriter Orit Shimoni, also known as Little Birdie. I had never heard of her before, but I'm always in for a surprise, so I didn't look her up on the Internet either. The petite dark-haired lady with her acoustic guitar and her fabulous voice blew me away, completely! Especially with her song "I Left The City Burning". The recording ended up on a CD of 'The Blueprint Sessions' and I did the same thing as in my teenage years with LPs: play the track over and over again!

When I took the time to learn a bit more about Orit Shimoni, I was even more impressed by the way she handles her career in music. Very few singer-songwriters or musicians I know literally live on the road and if they do, it's only for a short period of time, up to a year at the most. Orit travels the world as 'suitcase girl' with her guitar for six and a half years already! In the old days independent artists worked hard and saved up money, when they wanted to make a record. Now you get one KickStarter or GoFundMe request after another every day... I don't like that approach very much. It can be done differently!
Orit Shimoni in her own words: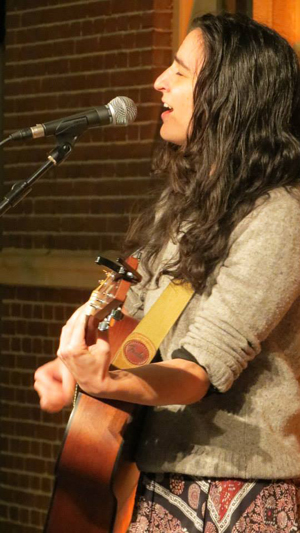 "I have put out five records independently. In order to do this, I seriously considered my priorities and cut every single possible expense out of my life except for food and, at the start, shelter, (I've been on the road now for over six years, having given up an apartment), the occasional medicine, and transportation. Clothing, I buy at a 'no-item-over-5 bucks,' policy by shopping at second hand shops. My big treat for myself when I really feel like indulging, is some nice smelling soap from the health food store, (2$), and of course, chocolate. I started living this way a long time ago, always saving for a rainy day. I've eaten a lot of peanut butter on toast for suppers. No frappucinos, no restaurants unless it's a very special occasion. People have teased me if not criticized my harsh budget. "I know what I'm doing," was always my reply. I have goals and I am willing to work and sacrifice for them.

To my great honour, the musicians, engineers, and producers who have helped me make my albums have been talented and gracious people who discovered my music by seeing my performances, and were excited enough about the songs I was writing and the way I was singing them, to take my budget into account. Sure I applied for grants but we weren't going to wait forever for money to appear. And frankly, live-off-the-floor recordings work too, when it's good material. There are legendary albums out there recorded with very low budgets. We worked with what we had.

I also didn't hire a publicist. It was way beyond my budget. Instead, I learned (painfully slowly) how to communicate with press on behalf of myself. What I got, suffered in quantity perhaps, but I got by my own hard-earned rapport with radio hosts, reviewers and journalists. My albums have all charted without hiring a radio tracker, and I can honestly say that feels amazing. I am slowly getting better at the business side of things, which goes hand-in-hand with feeling more confident about my work and wanting to share it. In the beginning, I was so unsure of whether I deserved praise and attention that I set about the whole 'promotion' thing very, very tentatively. I also needed to balance the time spent on it with everything else I was doing.

I was, not, however, tentative about writing songs, performing, touring, and recording. I quit my very secure job and gave up my very beloved apartment (I miss it very much some days), so that I could work even harder at the music. And the songs, performances, and recordings have been continuing steadily, and the publicity, as a result, as well. It's not that I'm not often terrified. It's that in a consistent enough way, I've had faith and perseverance. I'm not saying I'm successful, either. I'm just saying that whatever I've got I have worked my tail off for, and sacrificed a lot for. I have done this for a sense of dignity, honesty and for the feeling that success would be a function of my skills and nothing more. If you like my music, listen to it. That's what it's there for. If you believe in fair financial compensation for my hard efforts and those of my many helpers (whom I still owe), then pay for the downloads I've put out there, or order the CDs, better yet, order extra copies for your friends. It's fair, my wallet and ego would both be grateful, but more importantly, I will be able to continue to create music for me and you. Come to shows and buy the albums. That's what working artists really need you to do. When that goes on, more records can come out."
Very well said, Orit Shimoni, I applaud you!
Orit Shimoni tells about her meeting with that awesome band on the record:
"It was my third time passing through Toronto and I was lingering on account of the warm reception. I'd met James Thomson through Kenny Yoshioka, whom I'd met before at the Junction Sunday Blues jam. I'd met Julian Fauth there too. James suggested I come sing a few at their Tuesday house gig at Gate 403.

By the look on Paul Brennan's face when I arrived they weren't too keen on sit-ins, but James assured me that it would be fine, and I will never forget Paul's face change when I started singing. From that moment on, all was golden, and as far as I'm concerned, meant to be. Paul's hands and feet danced with pedals, sticks and brushes, Julian layered a delectable mix of menace and glamour with the piano, and when Tim Hamel played his first trumpet line over top of it all, it was like warm rays of light shimmering through and above. Kenny added just the right amount of twang and sass, and James sat on his stool, passionately playing his upright, and grinning because he'd said all along it would be great. It was Paul who ran out after me when I left and said, 'Come back next week'."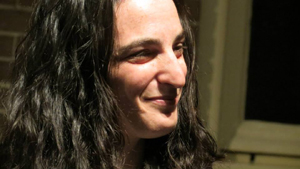 Orit Shimoni's Songs and my impressions while listening:

1. "Good Guy With Demons": The first song swings the door wide open. The voice, the musicians, the perfect crystal clear recording - it's all right there. To top it of - excellent lyrics: I'm sure we all know (and love) 'a saint haunted by ghosts'.

2. "Don't Hang Your Hopes": How playful and upbeat this song sounds, with lovely trumpet solos and the piano inviting to dance - the message is clear: "It's not like me, to stay more than a little while". The gentleman better tries courting another lady!

3. "Just Because": This is such a gorgeously sad ballad, full of desire and longing. If I didn't know better (the songs are all Shimoni originals), I would swear this was written by Charlie Rich and that's about the biggest compliment I could give anybody!

4. "Don't Mind Losing": The acoustic guitar also comes to the foreground in this country flavored song. "I keep as many records as my travel bags allow".

5.

"Honey & Milk"

: Back to jazzy blues and dark Leonard Cohen style lyrics. "The believers deserted / And the dreamers have drowned." There was never a promised land of honey and milk anyway!

6. "Please Come Home": Lovely rhythm feeling, set off by the acoustic guitar, Orit sounding like a torch singer from days long gone by, perfectly building the song layer after layer to a climax with the full band.

7. "Ain't Smilin'": Another melodic rippling song, that could have been sung by those country divas from the sixties and seventies.

8.

"Let's Get Persecuted"

: T

he album takes a bit of a satirical turn here. Orit tells: "Alarming as the title is, it stemmed from a very stimulating conversation at a bar with a fellow musician, about our similar experiences with racism, he, half Native, me, Jewish. After comparing unfortunate anecdotes, and somewhat comforted by the commiseration, we both agreed on what seemed obvious: That we'd rather be the oppressed than the oppressor, and on that note, I raised my glass and sardonically said, "Let's Get Persecuted". He grinned, pointed at me and said, "You've got to write a song called that." I did that night when I got home. I wrote it as a mock love song, a sarcastic invitation to bond over the shared horror." A young, angry Bob Dylan could have written something like this. In the meantime: blow your trumpets, Tim!

9. "You Did Me Wrong": A beautiful slow ballad about that everlasting theme of love gone wrong. Surprising arrangement with harmonica and accordion.

10.

"Diamonds Are The Devil"

: This track fits perfectly after the last one, taking the smart arrangement just that little bit further. Diamonds, yes, but on the upside: "Golden hearts are golden / And that's enough for me".

11. "Happy Song": I absolutely love accordions! Too bad it's hard for Orit to take one on the road. A guy came up to her after a concert and told her: "You should write happy songs!" She did. The surprise twist is all the way on the end though.

12. "Somewhere": What a fantastic intro... Orit is showing off the timbre of her voice, perfectly timed. Plus all the feelings required for an old-time tearjerker: "Somewhere my daddy's playing with another child".

13. "I Got The Blues": The blues, New Orleans style - that is. I don't mind if the blues are planning to stay - this way!

14. "These Things": The album closes off with a infectious melody, where all the instruments come together one more time.
'Bitter Is The New Sweet' takes yet another exciting direction in Orit's career. Obviously inspired by jazz from the cabarets in days long gone by, it sounds a bit sentimental but triumphant at the same time. Orit is an alluring vocalist with a powerful, intense and flexible voice. When it comes to those hard to make comparisons, I would say: Meschiya Lake, Neko Case, Norah Jones, KD Lang, Maria Muldaur.

The songs are touching on all emotions that make us human, like love and hate, pain and joy. There's also conflict, social injustice and existential longing as an always suitable subject for some deep dark lyrics, in an intriguing contrast with the seemingly playful music. Orit shows the clever ability with words and talents of a born songwriter, the lyrics are candid, timeless, they have a little cynicism and a little humor. She questions people and their often odd behavior, unable to ever understand them and the world around her fully. The lyrics reflect, consistently articulate, dedication to her engaging art, her personality, an academic background and lots of life experience.

Although the intelligent lyrics are very important, the music that's wrapped around them stands on a stellar level. The sometimes poignant melodies and spontaneous, subtle arrangements are mostly based on jazz and blues, with some country and folk influences. There is a universal quality in the melodic, honest songs. The musicians feel instinctively what direction a song wants to go.
Although these songs are brand new, they sound familiar. Did you hear them years ago, in a smoky nightclub, after hours, living dangerously? Sung by a femme fatale, who lured you in and sent you shivers down your spine at the same time?
Fast forward to the present day. In the meantime Orit Shimoni played again at 'Blueprint Live', two cool sets of four new and older songs. Confident and disarming at the same time, impressing the audience with her voice and finger style guitar playing, but keeping it low-key with her stories and little jokes in between. She still travels across the globe, performing in cafes, bars and clubs, at festivals, show venues, house concerts and even on trains. She sleeps in guest rooms and on couches, rides the train, the long distance bus or hitches a ride with fellow musicians. She has no fixed address, no keys, no driver's license. She sings!
I acquired two earlier albums or should I say 'masterpieces'? Debut 'Cinematic Way' (2006),
a gorgeously orchestrated altcountry album, with hints of folk, blues and soul, that was well-received around the world. 'Sadder Music ~ Live From Berlin' is phenomenal, gives the best impression of Orit's concerts of course, her voice connecting with the songs - and should be found in every music lover's collection. Both released under the name 'Little Birdie' and still available for (digital) purchase.
From The Calgary Herald: "Jealous of seeing others immerse themselves in what they loved doing, hitting the road was a way to ensure her full attention would be put toward her career. That said, she also admits there is something addictive about finding yourself in a new city every day, and a life she thinks she's 'well suited for'. She acknowledges that it's 'extemely rare to find women on the road full time', and has encountered only a handful of perpetual fellow female performers during her travels. 'There is a lot of feminism in what I'm doing, there is a bit of wanting to prove that women can do this to,' she says. 'But that's not the only driving force'. No, ultimately it's because she wants and needs to get her music heard and her music made. Which, interestingly enough, has also pushed ahead and evolved as a result of her movement. Musically each album is different from the last, a product of her creative process, yes, but also the place and the people who help her realize it, which makes for an incredibly broad sonic palette to paint from. 'I want it to be interesting for myself, most of all. But it's also a function of the fact it's hard to record albums when you're on the road. It's always, 'Where can I record next?' And I just meet these amazing musicians, so when there's a click, it just needs to be captured. I can do the songs solo or there can be jazz or country or blues or rock depending on the band that plays with me. It's just been a musical adventure for me'."
Her leap of faith has certainly paid off. Orit Shimoni posts a picture on FaceBook from Berlin: "I'm doing laundry," she says with a laugh. "All of these perks that people usually hate about their everyday life, I love."
-----

Written and compiled by Johanna J. Bodde - November 15th, 2014.
=====