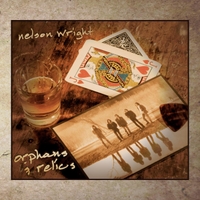 Nelson Wright
'Orphans & Relics'
(Fetching Grace Music, 2014)
www.nelsonwright.com
Nelson Wright's solo career started in 2012 with the release of 'Still Burning'. An album of ten original songs, that I liked enough - to play four of them in my radio show! It looked back to his folk music days. He came of age in rural New York, where American roots music got under his skin and spurred his playing, writing and gigging. Inspiration came from earlier generations of folk musicians -players like Dave Van Ronk and the young Bob Dylan- who haunted the Greenwich Village coffeehouses just downstate. The blues of Mississippi John Hurt and Reverend Gary Davis, but also the country from the heartlands left their musical traces.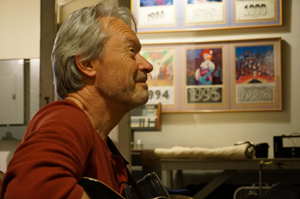 Years passed. Roots rock bands, bluegrass bands, no bands, all came and went. Nelson now lives in Seattle, Washington and just released his second solo album 'Orphans & Relics'. It captures nine different corners of American music in nine tracks. Country blues, rockabilly, traditional jazz, folk revival, electric blues and more - they're all used to frame Nelson's vivid storytelling and melodic craftsmanship. The result is a true American album, that was recorded on 2 inch analog tape at Prairie Sun Studios in Sonoma County, CA. Nelson and producer Michael Thomas Connolly created a sound that is vintage, alive and organic, just like the music that was the inspiration. Michael dubbed it 'Dirty Americana'. But, whatever it may be called, there's no mistaking the intentionality and passion that jumps out of every track.
While spinning the disc, these thoughts came to my mind:

1. "Miller's Wheel": A folk ballad - I can almost smell the campfire! Harmonica and dobro both sound very pretty, adorning Nelson's fine voice.

2. "Orphans Of The Past": A powerful country rock song with a full band sound. Excellent electric slide guitar! Steff Kayser and Steve Beck sing harmonies. I wish there was a lyrics booklet!
3.
"Mama It Will Surely Do
"
: An old-time folk blues vibe, a short song with a lot of dobro and a bit of bluegrass.
4.
"Who's Fooling Who
"
: Ah, that's jazz - second line beat New Orleans style. Yummy! Eric Padget on trumpet. Steff Kayser on harmony vocal again.

5. "Falling Out Of Something": Rocking duet with Annie Ford and the electric guitar is showing off. Good drumming too!

6. "Ten O'Clock Blues": The title gives it already away, Delta blues it is indeed. The Hammond organ and the electric guitar create an ominous feeling...

7. "In Another Lifetime": Slow melancholy jazz, acoustic bass, muted trumpet. I can see Nelson walk towards a river in the dark, lost in memories about his long gone lover, stopping at a back alley bar... That kind of song.

8. "Once I Was Loved By You": Same sad intimate atmosphere. This sounds like a Nick Lowe as a crooner song, circa 'The Convincer'. Wonderful Hammond organ, building up the song perfectly, together with the electric guitar. I think I'm going to pick this track as my favorite!
9.
"The Last Call Blues
"
: We're in the back alley bar under the broken neon sign again... Liquor has been flowing and strangers are still dancing. The trumpet excels in desperation! A stunning arrangement and a perfect last song on the album.