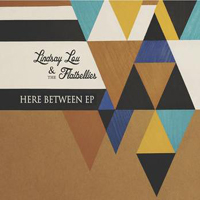 Lindsay Lou & The Flatbellys
'Here Between EP'
(Earthwork Music, 2014)
www.lindsayloumusic.com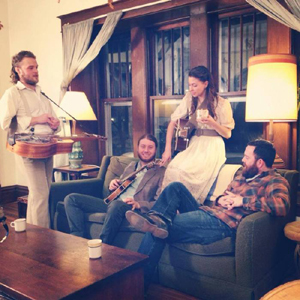 "They aren't traditional or progressive bluegrass. They have a distinctive sound all their own, a sound that is taking acoustic music in an exciting new direction", according to a concert announcement. "
Lindsay Lou & The Flatbellys are giving a nod to American traditional music, while boldly taking their own songs in new directions. Distinct vocals, tight harmonies, instrumental expertise and creative arrangements are all essential characteristics of their unique sound."


This sounds very promising indeed! I always like to get acquainted with young bands and new, fresh music. Lindsay Lou and her boys are from Michigan, the Great Lakes State. 'Here Between' admits already on its front cover, that this is an EP: four tracks. Three original songs and one cover. It has been recorded in Boston and is released to serve as a snapshot of their ever evolving sound.
We want to know more about their background and earlier work, so let's take a look at their bio (by Earthwork Music):


Lansing, Michigan - circa 2008: The story of The Flatbellys begins with the convergence of several young, musically driven, bluegrass obsessed college students, who just happened to be in the right place at the right time. Founding member Joshua Rilko along with Spencer Cain, Joshua Brand and Jesse Myers made up the original group and eventually released their album 'Get 'Round'. They started travelling far and wide to insert themselves into every possible musical situation. Their energetic, yet humble approach to the music was welcomed at jams and festivals all over the state, where their late night stamina became as well known as their performance capabilities. The Flatbellys got their name after a jam at one of these festivals, where a picker proclaimed: "It's good to see a bunch of you flat-bellies out here pickin' with us grey-beards!"

When the college days were done, the boys inevitably parted ways to follow diverse paths and the end seemed near. Enter Lindsay Lou: a beautiful person with a beautiful voice, who walked into an open mic night at Dagwood's Tavern in Lansing, Michigan (the same place where The Flatbellys began) and reinvigorated the music. She was a natural fit and when she left shortly thereafter to live and study for five months in Ecuador, it became clear that the group was missing a now essential member.

While in Ecuador, Lindsay honed her bluegrass chops and wrote songs prolifically. Upon her return, she had dozens of new original songs, which became the basis for the debut album: 'Lindsay Lou - A Different Tune' (2010).

During the planning stages for the album and the subsequent performances, The Flatbellys gained another crucial element with the addition of Keith Billik on the 5-string banjo. The Flatbellys had long known Keith from their frequent visits to the local music store mecca, Elderly Instruments, where Keith worked as floor manager for over a decade. His banjo playing not only offered the driving bluegrass sound, but also brought a level of sophistication to the less traditional numbers.

The evolution of the present day Flatbellys took a turn in the summer of 2010, with the addition of Mark Lavengood on the dobro. While rehearsing for a performance at Blissfest, a friendly faced young man with a dobro walked up and asked to play along. While Lavengood began to do so, the talent he had to offer came through loud and clear. A year later, when he stepped into the group with a world of positive energy and started booking shows, it was apparent that he would become a tight fixture of the band. The 5 piece unit went into the studio and recorded 'Release Your Shrouds' in 2012.

Today the band tours as a 4 piece with PJ George on upright bass, vocals, cajon, harmonica, guitar, mandolin; Mark Lavengood on resonator guitar aka dobro, vocals, guitar, cajon, bass, Joshua Rilko on mandolin, vocals, bass, banjo and Lindsay Lou, the singer-songwriter, on guitar and clawhammer banjo. Having played 200 shows in 2013, this year looks just as exciting and the year ahead (2015) will see them releasing their second full length album and making their first international tours to Germany and the UK.

Comparisons have been made with: Crooked Still, Lake Street Dive, Joy Kills Sorrow, Infamous Stringdusters, Rachael Davis, Greensky Bluegrass. An infectious spirit and undying optimism permeates Lindsay Lou and The Flatbellys. They continue full steam ahead, writing, travelling and performing a diverse collection of music that spans from hard-line traditional bluegrass to the progressive fringe of the genre.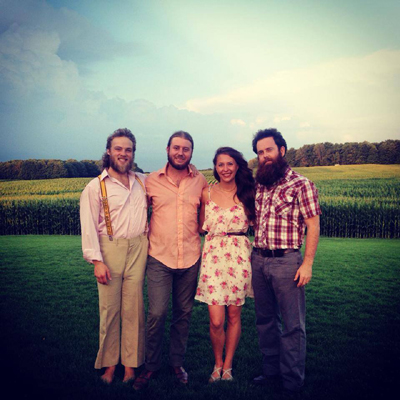 1.

"The Fix"

: From the moment Lindsay Lou takes a breath and starts singing this short song, she puts a lovely spell on anyone who listens. This is an unusual melody, brought to us by a very skilled singer. Adorned with effortless playing of the complex arrangement. I haven't even mentioned the flawlessly fitting harmonies yet. In one word - with exclamation mark: impressive!

2.

"Into Words"

: A slower track, the jazz diva vocal seamlessly combined with the old-time mountain music feel.

3. "Here Between": Gorgeous intro on the bowed bass of a lovely sad verse, with a very pretty chorus and then the tempo picks up, making it sound like it's almost unreal. Lindsay's vocals are so silky and supple, instead of that often used razor sharp approach.

4. "The River Jordan": A divine gospel song, written by May Erlewine of their label mates - the duo Seth and May. Lindsay's voice deepens somewhat here, showing off its fantastic timbre. The musicians hold back a little too, giving the fiddle solos a starring role. The end is fabulous with Lindsay's triumphant singing!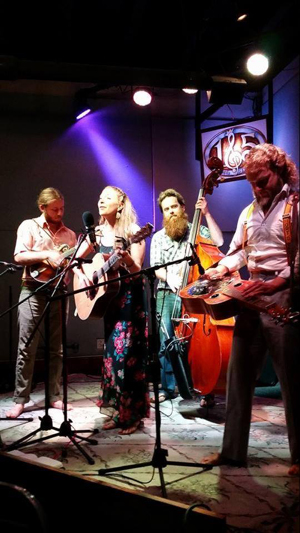 It takes only fifteen minutes to blow me away, apparently. And an angel's voice. Why haven't I heard from Lindsay Lou and The Flatbellys before? Now I'm definitely never going to listen to... not mentioning names, let's say the razor sharp voiced female bluegrass singers - anymore!

The tight knit group combines the mountain tradition with the enthusiasm and intensity found in cities and with the groove and soul from the Southern states. A fresh approach, from Michigan 2014, which makes them unique! A label 'stringband' would be justified too. The heavenly vocals and harmonies, the complexity of the songs, the band maturing to a new sound, their sincerity, passion and lots of energy - just a few little labels to stick on the album cover. In their own words: "Motivated by the power of music to connect; to ask questions; to heal and to learn about what it means to be human."

Now I'm going to find the previous album and then I will be looking forward to servings of more 'Lou-Grass'!

-----
Written & compiled by Johanna J. Bodde - October 25th, 2014.

=====