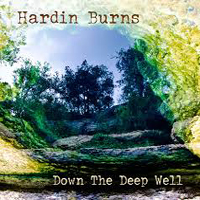 Hardin Burns
'Down The Deep Well'
(Ithaca Records, 2014)
www.hardinburns.com

Guitarist Andrew Hardin and vocalist Jeannie Burns have teamed up to write, record, and perform as Hardin Burns. After meeting at Woody Guthrie Folk Festival in 2009, the two began writing what would eventually become their self-released debut recording 'Lounge' in 2012. It includes nine original songs and a cover of George Harrison's "Beware Of Darkness" (from 'All Things Must Pass', 1970). The duo have also recorded a two-song CD of a new original "Ache" and Howlin' Wolf's classic "Smokestack Lightning." Acoustic Guitar Magazine included "Lounge" on its Essential Acoustic Albums list for 2012 and called it "...an addictive set of earthy, hook-filled melodies, stunning harmonies, and graceful virtuosity on acoustic and electric guitars". In April 2014, the duo recorded their second collection, entitled 'Down The Deep Well'. Co-produced by Gabe Rhodes in Spicewood, Texas, the recording features legendary drummer Dony Wynn and upright bassist David Carroll.
Andrew Hardin lives outside of Austin and is best known for his long association with songwriter Tom Russell, with whom he toured all over North America and Europe. During that time Andrew mainly lived in Brooklyn, New York, but relocated to Texas in the year 2000. He has also performed and recorded with such artists as Jimmy LaFave, Eliza Gilkyson, John Fullbright, Malcolm Holcombe and Joel Guzman. He has released four solo albums of instrumental guitar music and a new retrospective entitled 'Lost Pines', featuring noted guitarists Albert Lee and Amos Garrett.

Jeannie Burns, the eighth of twelve siblings, lives in Ithaca, New York, and performed with the Burns Sisters for over twenty years. The Burns Sisters released eight albums and have toured extensively as back up singers for Arlo Guthrie. Their back up vocals can be heard on recordings by Jimmy LaFave, Kevin Welch, Radoslav Lorkovic and others. Jeannie released an excellent solo album 'Coming Up Close' in 2000, that included songs by Fred Eaglesmith, Ray Bonneville and Steve Earle.
In addition to touring in Texas, Oklahoma, New York, Maryland, Ohio, Florida, and California, Hardin Burns has recently toured Italy and Alberta, Canada. They performed "Talk Of The Town" and "My City Was Gone" at the Barns At Wolf Trap (near Washington, DC) in a tribute to Chrissy Hynde, and performed on the train 'City Of New Orleans' from Chicago to New Orleans.

What sets Hardin Burns apart from the crowd is their ability to combine traditional musical styles such as blues and country with visionary, modern lyrical ideas. Their sound brings to mind such acts as Raising Sand or The Civil Wars. Influences include Johnny Cash, Howlin' Wolf, Lucinda Williams, Warren Zevon, Al Green, the Rolling Stones, and George Harrison. In live performance, expect to hear Jeannie's evocative, bluesy vocals framed by Andrew's inspired and inventive guitar playing.
---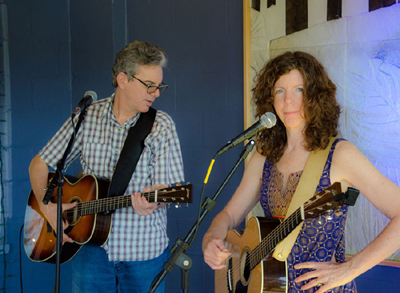 The Hardin Burns ALBUM
:

In April 2014 the duo, known as Hardin Burns, recorded ten tracks in Austin, Texas. Their second collection 'Down The Deep Well' was co-produced by Gabe Rhodes, and features the legendary Dony Wynn on drums and David Carroll on upright bass. The new album is more stripped down and primal-sounding than its predecessor. Topics range from the emotional distress of the title track to the domestic bliss of "Back Porch" and from the celebration of love and life in "Blooming" to the fear of death in "The Call". The tracks draw inspiration from blues and country influences, as well as singer-songwriter and pop music traditions. Acoustic instruments: drum set, upright bass, and acoustic guitar form the rhythm section, with acoustic and electric guitar solos and subtle touches of accordion and electric piano.

Andrew is known for his distinctive acoustic lead guitar style. On this new CD he plays virtually all of the guitar, and is contributing lead and harmony vocals as well.
Jeannie is the primary lead singer on the album, and she displays an unprecedented range of expression on this recording.

Co-producer Gabe Rhodes is a great acoustic and electric guitarist, and is also proficient on piano, accordion, and dobro, and basically, whatever the situation requires. He has produced and recorded projects for Willie Nelson, Billy Joe Shaver, Waylon Jennings, Kimmie Rhodes, and many others. Hardin Burns chose Gabe for their project largely on intuition, and after hearing the Susan Gibson recording 'Tightrope' that impressed Andrew with its sparse and tasteful production. The recording studio was hand-built by Gabe, and features stained glass windows and fresh-brewed coffee.

Drummer and percussionist Dony Wynn toured with British R&B singer Robert Palmer ('Addicted To Love') for years, and also has worked with artists such as Dr. John, Robert Plant, Patti LaBelle, and many more. Dony is also a fine-art photographer, and record producer. Born in Memphis, raised in Southern Louisiana, educated all over the world and now living in Austin, Dony's contribution to this album cannot be overstated.

Bassist David Carroll is a constant in the live-music scene in Austin. He is another alumnus of Susan Gibson, and also works regularly with Christine Albert and Chris Gage, Bill Kirchen, Hayes Carl, Toni Price, and Kimmie Rhodes. David plays a large upright bass that folds in half for easy traveling. David's style is muscular and solid, and he is also a great singer!

The album was mixed by award winning producer and engineer Bradley Hartman, who has recorded dozens of albums by Emmylou Harris, Willie Nelson, Rosanne Cash, Rodney Crowell, and more. As Gabe pointed out: "…he mixed 'Stardust'." Mastering was done by Alex McCollough at Yes Master in Nashville.

The CD package is completed, photographed and designed by Jeannie's husband, Ralph Varn. It features a cover photo of an inverted image of Jacob's Well, a natural spring near where Andrew lives in Wimberley, TX. (The Huffington Post recently called Jacob's Well "the coolest place to swim in Texas".) The back and inside photos feature a mural by Tony Sansevero at the Flora and Fauna Hotel in Wimberley, illustrating local wildlife such as heron, armadillo, owl, mountain lion, etc.
-----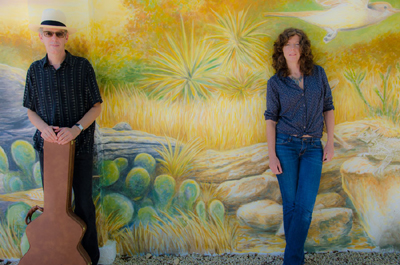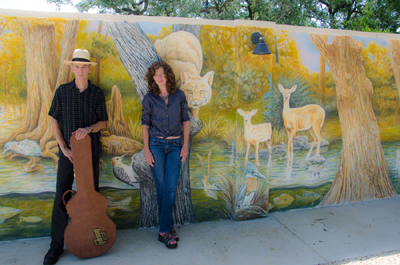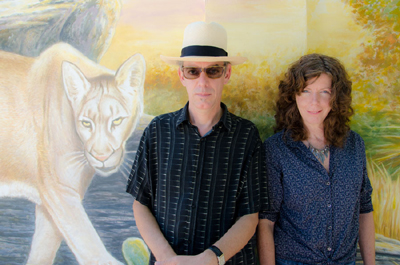 1. "Down The Deep Well": I love that rhythm of this swampy blues title track! Andrew takes, surprisingly, the leadvocals and Jeannie echoes him in the chorus. His electric guitar notes are reminiscent of the great Mark Knopfler.
HB: This song is basically a blues in E minor, and features an electric guitar solo by Andrew, and no bass… the drums and acoustic guitar cover the rhythm. Jeannie provides counterpoint vocal and ghostly wails at the end of the song.

2. "Back Porch": Of course this is Jeannie's turn to sing lead vocals in this lovely and lazy Mexican flavored acoustic folkballad. The sound has a seventies Linda Ronstadt feel, but Jeannie's vocal itself reminds me quite a bit of our favorite 'La Lucinda'. Inventive fingerpicking!
HB: An ode to domestic bliss, given soft faintly Mexican accompaniment, sung by Jeannie, with an acoustic solo by Andrew with Gabe adding a touch of accordion.

3. "Blooming": Inventive jazz guitar notes in a relaxed swinging blues ballad, sung as a convincing duet, with a hint of the great Bobbie Gentry in the melody and phrasing.
HB: A duet with a funky rhythm and a jazzy solo.

4. "Gentle Rain": Another ballad, I love Jeannie's fragile and airy vocals. Also another wonderful guitar solo, somewhat subdued for the occasion. New Orleans is the backdrop. Favorite song!
HB: This is a reminiscence in New Orleans that falls apart in a puddle of mud on a side street in the French Quarter.

5. "The Call": This duo gave obviously great thought to the sequence of the songs. Poignant lyrics about addiction... "If you can fall after twenty years / With all your blessings, your career / But for the grace of God go I". Jeannie sings right from the heart! The guitar winks at JJ Cale in the meantime. Highlight!
HB: An obituary to a talented artist who succumbs to the perils of addiction.

6. "Ache": Back to the blues, with resonating guitar sounds and Jeannie's wistfully vibrating vocal timbre, asking herself why she let him go...
HB: A funky, tongue-in-cheek complaint about unfulfilled desire.

7. "Get Back Home": Country song with a bit of a 'chicka-boom' rhythm. Jeannie shows off that she can sing in any style just as effortlessly.
HB: The protagonist decides that the gamble is not worth the risk, in a deserted, southwestern landscape.

8. "Run": An upbeat, energetic song. Jeannie's sister Terry joins in on harmony vocals. The lyrics should make us think about current consumer issues, thoughtless over consumption of our resources, that is.
HB: An anti-country song, taking issue with mindless consumer culture.

9. "Walkin' On A Wire": The only cover song, written by Richard Thompson, from the album 'Shoot Out The Lights' (1982) by Richard and Linda Thompson. A fabulous song getting well-deserved respect.
HB: Our version of "Walkin' On A Wire" is more understated than the original by Richard and Linda Thompson; it's a great song that deserves to be heard again.

10. "Wave Of Your Hand": A melancholy duet to close off the album.
HB: Finally, "Wave Of Your Hand", a dialogue between a emotionally crippled woman and a friend who urges her to "break the rhythm and bend; and let the music in".
---

A cool collection of inspired songs by this very talented duo. The album has a great flow and a nice variety of folk, blues and country tinged songs at the same time. Superb playing, of course. I'm also a big fan of Gabriel Rhodes, more people should realize how good he really is. 'Down The Deep Well' has something for everybody, that might be an often used line, but here it works!
-----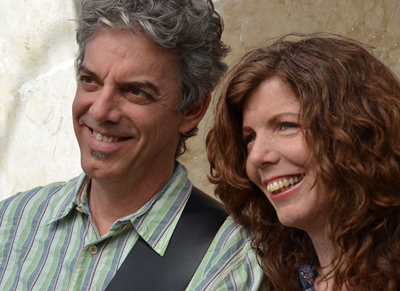 The Hardin Burns Interview
:
(from Ithaca Journal)

Five years after meeting at the Woody Guthrie Folk Festival in Oklahoma, Andrew Hardin and Jeannie Burns continue to develop their musical partnership in their roots duo Hardin Burns. They put out their debut CD, 'Lounge', in 2012, and recently completed their second album 'Down The Deep Well', for which they played a release show at Ithaca's Carriage House Café.

Hardin has played with several performers during his long career, but he's best known for his long stint backing Tom Russell. Burns, a native of Binghamton who has lived in Ithaca for decades, spent more than 30 years as a member of the Burns Sisters; after the release of their last album, 'Hills of Ithaca' two years ago, she decided to focus solely on the duo project with Hardin.

"We were hoping that it would jell," Burns said of the duo. "He was not as much a writer when he worked with Tom Russell, and I wasn't the big writer in the Burns Sisters. So we thought, 'Let's get together and try writing more,' which makes it exciting for both of us."

Hardin had heard Burns' solo album 'Coming Up Close', which included several cool cover songs. "I was impressed with her ability to pick really good material and interpret it," he said. "To me, to work with a vocalist that was that good really filled in what was missing in myself. I think her skill set is really complementary to mine, but our taste and stylistic orientation is pretty similar." "It was a great pairing, and synergetic - one plus one is more than two with us," Burns added.

The new album, which was co-produced by Hardin and Gabe Rhodes, has a sparser sound than its predecessor. Rhodes had produced an album, 2011's 'Tight Rope', for singer-songwriter Susan Gibson, whose song "Wide Open Spaces" was a huge hit for the Dixie Chicks and who also lives in Wimberley. "It didn't have a lot on it, and I liked it better than any of her other records," Hardin said. "I was thinking that's what I want for our record. If it needs something, I want to have it there, but I don't want any extra stuff."

Hardin and Burns cut the tracks with drummer Dony Wynn, who had played with Robert Palmer for many years. "He was a special drummer, and that's what really defines his record, his sensibility," Hardin said. "Then we kind of just filled in the blanks, with string bass and other little touches, mainly economical guitar solos."
Except for their cover of Richard Thompson's "Walkin' On A Wire", Hardin and Burns wrote nine of the album's ten songs.

One particular standout is "The Call", which was written in response to actor Philip Seymour Hoffman's death. "It's told from the point of view of another addict, because I am a recovering addict," Burns said. "When I heard he died after 23 years of being sober, you realized no one is immune. Anyone who's an addict knows it can happen to them, and that put fear of God into everyone I know who's an addict."

The two are excited about seeing where their partnership goes in the future. "I think we've figured out what works, though we're still open to different ways of fleshing out songs," Burns said. "Nothing's done exactly the same way. Sometimes I have an idea and give it to him, or vice versa. We just let it happen the way it's supposed to happen". Hardin added: "The song tells you what needs to have done to make it work, and then you sit back and go that's what its about. It's a process of putting the little parts together and seeing which ones resonate most".

-----
Written & compiled by Johanna J. Bodde - January 30th, 2015.
=====