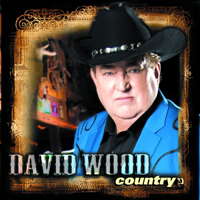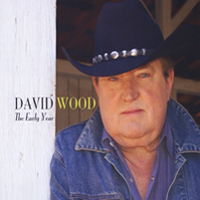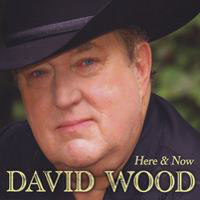 David Wood
'Who Left The Door To Heaven Open' (Single)
(European release 2014)
'Here And Now' (2009)
'The Early Year' (2010)
Country (2011)
All released on
DeW
Note Records
(
www.

DavidWoodCountry

.com
)

The idea for this item started off with an E-mail from David Wood: "Hi there... I have released another record in Europe recently: "Who Left The Door To Heaven Open" so I thought I'd send you a copy of it with this e-mail... My best to you... David". I realised that I hadn't written about good traditional country for a while now, so I decided to listen again to David's albums. The latest one "My Side Of The Fence" (2014) will be coming our way soon.
David Wood in his own words: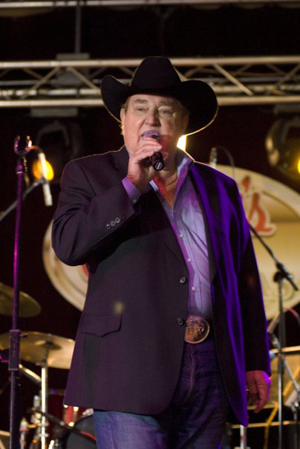 "If It's David Wood --- It's Country!" Who is David Wood and where did he come from?
Once upon a time - there was a little town in California called Los Angeles. It was the home of 'Country and Western Music'. That's right - 'Country
and Western
Music'. And that's because most of the music came from artists who were performing in the 'Western' movies. And the movies were made and produced in this little town out West. There were names like Gene
Autry
, Roy Rogers and Dale Evans, The Sons of the Pioneers, and many others making Country and Western Music.
Then came the live performance venues: Spade Cooley at the Santa Monica Ballroom,
Cliffie
Stone's Hometown Jamboree, Town Hall Party, Riverside
Rancho
and many, many other live venues playing Country and Western Music. In my youngest years, because of my parents' close friendship with Spade Cooley, I recall Saturday nights when my folks would take the family to listen to Spade's band.

When one asks the question: "How does someone from Los Angeles grow up to love and sing Country Music - the answer is simple. If they were born in this little 'Western' town in the 40's or 50's... they were born into the lively little heart of Country and Western Music and that influence, at an early stage of life, never leaves the soul. "Once country - Always country".
Later, in my teens, I was drawn to rhythm and blues and I witnessed the convergence of my parents' country music with my rhythm & blues resulting in the beginnings of
Rock'n'Roll
. Even then I wished I was singing or playing an instrument. In my 20's I joined the Air Force and took a guitar to boot camp with me. In my 30's I went to law school and, as a lawyer, found myself representing and managing a number of country and
rock'n'roll
acts.
The answer to the question is: David Wood is someone who was born into the heart of Country and Western Music in that little Western town - next to the Pacific Ocean - in California. And, for the rest of his life, he has stayed true to his roots and followed Country and Western Music... even as the Western movies disappeared, the music became simply Country Music and its center of focus has moved on to other parts of the country. (Even the Academy of Country Music was originally called the "Academy of Country and Western Music" when it was founded at the Palladium Ballroom in Hollywood - which is a little local community in that little Western town in California.)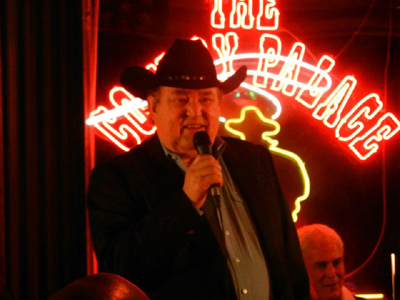 So - David is... and always has been... "country to the bone!" They say: "If It's
DAVID WOOD
... It's Country" And - it's gonna stay that way!!! Hope you enjoy my music... David
David Wood had his records played in every part of the U.S.A. and from Tasmania, Australia, New Zealand, Japan to England, France, Ireland, The Netherlands, Sweden, Norway, Denmark, Italy and Germany. And how did this happen?
Sound Villa Recorders: "
David has always been a lover of music. We knew him as he discovered and groomed a young singer named
Jill

Cronston

. In her he recognized a great country singer, and called his friend Billy Graham (owner of Sound Villa Recorders) to help
produce a four-song demo that resulted in a recording contract for her with CBS Records and enlisted the legendary Billy

Sherrill

to
produce her records. She is now known as Lacy J. Dalton.
Although David worked behind the scenes in the music business, he never considered himself an artist. At the age of (as David puts it,
"North of 65"), David decided he wanted to learn how to play the piano. He bought a keyboard and a small 8-track recorder and recorded
himself singing along with his piano playing. That's really when this story begins.
David called us in Nashville and asked if we could overdub some fiddle and bass on the recording he had done at home. Recognizing the
obvious quality of his voice, and realizing there was something special here, we invited David to come to Nashville. (We since have
learned how to record via the Internet and David can send us his vocals from California, which we mix into a track). We not only put bass
and fiddle on his record, we eventually recorded enough songs for an album.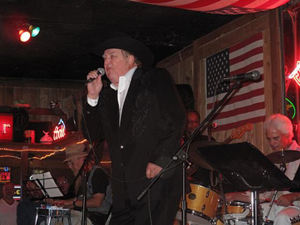 So here he was, with his history of being a manager of country acts such as Lacy J. Dalton, along with rock acts such as Rob Grill and The
GrassRoots

- David developed into the artist himself. T
his was the result of what grew out of many recording sessions, writing sessions and learning sessions at Sound Villa Recorders.
David has been an inspiration to us, as he says, he's "North of 65" but it is never too late to live your dream. In
three years, he has recorded over forty songs, produced three

CDs

, and written some very special songs.
David has been nominated for 'Best New Country Artist' by New Music Weekly Chart and he was nominated for Country 'Male Vocalist of The Year'.


David is an inspiration to us, and we hope an inspiration for many more people who have a dream".
He names a long list of fine influences: Waylon Jennings, Willie Nelson, Jerry Jeff Walker; Merle Haggard, Hank Williams Sr & Jr, Hank Thompson, Ernest
Tubb
, Johnny Cash, Bobby Bare, Alan Jackson, George Jones, George Strait, Jerry Lee Lewis, Randy Travis, Tammy
Wynette
, Kitty Wells, Dolly
Parton
, Jeanie
Seeley
.
'Who Left The Door To Heaven Open'
: This is a beautiful classic country song, written by B. Duke and recorded by the great Hank Thompson, a long time ago. David, with his resonating deep voice is the perfect singer for a new version. David reminds me of our mutual friend Bill
Wence
, he also sings, plays piano and has numerous great connections in the music world. (See an earlier item about Bill on this page.) Kathy
Chiavola
sings harmony. Jody
Maphis
plays electric guitar. Yes, it's about that angel, escaped from Heaven or was she sent to a lonely man with a special purpose?
'The Early Year':
Country as it was intended to sound. This is traditional country music for today's listener with melodies, lyrics and stories. Country Music of
yester
-year with a touch of today.
It was a most unexpected turn of events for David, a

fter

years of managing and representing artists, to make the decision to start singing and playing keyboards himself. However, he took to it like it was always meant to be - something he should have been doing all along. The result is a fresh revival of Country Music which blends the feelings of the past with the realities of today. David has filled a gap that is missing and is missed in today's Country Music - he calls it 'Neo-Traditional Country'.

Ernest

Tubb's

"Waltz Across Texas" is a duet with Lisa

O'Kane

. Ronnie

Guilbeau

plays acoustic and electric guitars throughout the album,

ukelele

on one track and he also sings backup vocals. The great Kirk 'Jelly Roll' Johnson plays his harmonica on Dean Martin's evergreen "Memories Are Made Of This" (David couldn't resist the temptation to include this one), the Jessi

Colter

& Waylon Jennings classic "Storms Never Last" and "Yesterday's Girl", another Hank Thompson hit. "Cowboy Arms Hotel" was written by Lore Orion (formerly the lead singer of

Bandera

) and here David is joined by experienced musicians like my favorite pedal steel player

JayDee

Maness

(the other tracks are played by Steve

Hinson

), Skip Edwards on keyboards and Ed Tree on acoustic guitar. For "Have You Ever Been Lonely" and "Sometimes I Do" (again with Jody

Maphis

on electric guitar) David went back to his favorite Ernest

Tubb

records and then the album ends with Hank Thompson's "Honky

Tonk

Girl".

The CD will serve its purpose if it puts a smile on your face, maybe brings back to life a memory or two with a familiar song from the past, or least makes you want to dance. (It did for me!) Then David will declare it a success!
'Here And Now':
The album starts off with Lore Orion's "Sayin' Goodbye To The West", played by a large band, with a big chorus. I even hear bagpipes! "Simple Things" was David's first single and reached #3 on the New Music Weekly Country Chart and he was nominated for 'Best New Country Artist of The Year' and 'Breakout Artist of The Year'. Accordion and keyboards are played by Danny
Borgers
, Ronnie
Guilbeau
takes care of the acoustic guitars, gut string guitar and a confident
ukelele
, while the one and only Kirk 'Jelly Roll' Johnson adds harmonica. "I Ain't Worth The Powder (To Blow Me To Hell Without You)" was written by Gib
Guilbeau
and Max D. Barnes. What a title by the way! David sounds very convincingly like a cross between Waylon Jennings and Willie Nelson. "Eighteen Wheels" is a catchy trucker's song, obviously - only trucks have eighteen wheels, with fine Cajun flavored fiddle playing by Bill C. Graham. Background vocals for sensitive ballad "I Wish I Had Someone To Love Me" are provided by... The
Jordanaires
! "Bottle To The Bottom" is a great uptempo cover of a lesser known Kris
Kristofferson
song. Just mentioning a few tracks, but they are all great, believe me!
David tells: "I thought that representing and managing a number of country and
rock'n'roll
acts would be the extent of my music business career. That is, until I bought a Jerry Lee Lewis DVD ('Last Man Standing') and realized - if I was ever going to play piano and sing, why not "Here And Now". (Ah... the explanation for the title of this album!). After all - I'm North of 65 and at this age - how much longer did I have? So - off I went to buy a keyboard. I then sat in front of the TV watching Jerry Lee and trying to learn from the master. Then came the singing. For that I had to go back to influences that have always defined my love of country music: Johnny Cash, Waylon Jennings, Merle Haggard, Jerry Jeff Walker, Kris
Kristofferson
, Lefty
Frizzell
, Hoyt
Axton
, and, going way back: Tex
Ritter
, Tex Williams, Hank Thompson, Ernest
Tubb
and Floyd Tillman. I knew, before it was too late, I had to give this a try".

On this CD are songs featured that rock, songs that tenderly tug on your heart strings and reflective songs that force you to take a look inside of yourself to see where you've been and where you're going. But, isn't this exactly what country music is supposed to do? This is the CD for which David has been preparing all these years. David has made his statement: "We are always young enough to try it one more time".
David Wood talks about some songs on
'Country'
: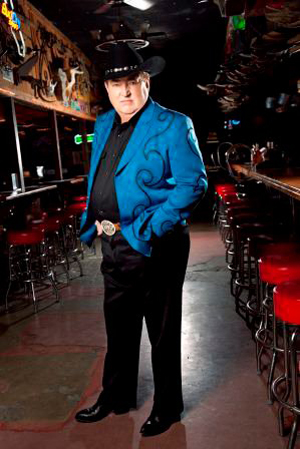 "My Dash"
: There's no better way to start this CD than with "My Dash," which recalls reflections David has had in his dreams about seeing the dates on his tombstone and focusing on the 'dash' between those dates. A song written by David which opens his heart and will grab yours. Though the 'idea' of writing about the 'dash' on a tombstone is not new, there have been songs and poems written about it in the past, no one has captured the positive message that David has put on this idea when, finally, David awakes from his dream and realizes that "There's still time to live my Dash". And that's exactly what David is doing with this CD. He is "Living His Dash". And, to borrow a phrase from David's prior CD, he's living it "Here & Now." The single
has been received by radio all over the world as one of his best releases and it has charted at number 1 on the

Hotdisc

Country European Chart two weeks in a row. In this song, David reveals his motivation,
he refers to the dash between the year born and the year passed on a tombstone:
"It's not the year you were born / It's not the year that you passed / It's what came between that counts for all / It's how you lived that dash". It's a song to which we all can relate and -David reminds us- "There's still time to live our Dash."
"This Old House"
: Any over-view of this CD would not be complete without mentioning "This Old House". Neil Young wrote this song in 1985 during the Farm Aid era when farmers all over America were losing their farms. Now - this song is as current today as ever when the foreclosures have disrupted the 'American Dream' like never before: "And tomorrow morning, the man from the bank's gonna come and take it all away."
"Ride The Wild West - Cowabunga"
:
Cowabunga
! This was the first single from the album and it went to number 1 on the New Music Weekly Main Country Chart. It's a Country - Surfer Rockin' song and be assured - you've never heard anything like it. It's, in big part, the sands of Wild West country mixed with the Surfer Sounds of the Beach Boys, Jan & Dean,
Gidget
and the gang on the 'other' sands of Summer at the beach. There's one truth for sure - you won't forget this song and you won't be able to resist the temptation to join in and sing-a-long as you "Ride Ride - Ride - Ride." - "Look out for that cactus little Sand Bunny!"
Cowabunga
!
"Following A Full Moon"
: "Night time / white line / drivin' just a little too fast / full tank / I think / this feeling just might last..." Picture yourself driving that long straight road on a warm summer night - the top is down, the shooting stars are above in the sky and you've got your favorite girl by your side... Absolutely nothing bad can come of this! Get ready for a fun ride!
"Can't Dance To The Blues"
: A classic country duet with David and Kim Everett teaming up to present this song written by Gib
Guilbeau
(formerly with The Flying Burrito Brothers) and Max D. Barnes.
"The Beer Drinkin' Song"
: This song is just too much fun! It was written by David over three decades ago. He had just returned from Europe where he had been accompanying an artist he was managing on CBS Records, Lacy J. Dalton. David and Lacy were sitting around David's home after their return from Germany and other European countries (and, of course, drinking beer!) when David suggested that what was needed was a 'good old American beer drinking song'. At which point Lacy suggested: "Well, why don't you just write one!" During the course of that afternoon, and probably a few beers more, "The Beer Drinkin' Song" was born. Some time later, Lacy, Billy
Sherril
and David were at CBS assembling Lacy's next album. Finding themselves 'one song short of an album', Lacy said to Billy, "Why don't we record David's song?" Since David, at that time was still practicing law, Billy retorted, "What the heck did he write.... a legal brief?" Lacy played it, Billy liked it, Lacy recorded it and it appeared on her album. Now over thirty years later, it's David's turn to record it. As Charlie McCoy's signature harmonica licks played such an integral part of the original recording, Charlie was again drafted to repeat his performance on David's recording.
-----
Written & compiled by Johanna J.
Bodde
- November 15th, 2014.
=====