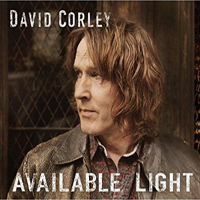 He looks a bit like Gérard Depardieu circa 'Green Card', one of my favorite movies. He is from the other Lafayette, NOT in Louisiana, but in the heartland of Indiana. I have no clue at all, why DAVID CORLEY describes his childhood as 'not-so-idyllic', as he grew up on a horse farm amidst loving, close knit family relations with his grandma Annabelle, mother Sarah, sister Annie and their two dogs 'Moose' and 'Ox'. Sounds pretty idyllic to me! He didn't like his piano lessons. There are plenty of kids, who never get a chance to take music lessons at all... David says: "The repetitive scales and endless rotation of 'Twinkle Twinkle Little Star' and 'Mary Had a Little Lamb' drove me insane and forced me to run away many days. I would walk the four miles home from my piano teacher's house down gravel roads and through cornfields 'til my mom finally agreed to not make me go back." He began practicing the piano on his own, teaching himself songs from the radio and the stacks of eclectic sheet music lying around the house and quickly began to pen his own tunes. His sister Annie recalls: "David would hide or throw a fit to get out of going to lessons... but we always had a piano in the house and all of a sudden we would hear him playing so many great songs and I still have some of his earliest gems in my head..."

When he was nineteen, David had a series of ecstatic visionary and mystical experiences. After leaving the University of Georgia at the age of 20, he travelled across the country delivering trucks, and began to read and write obsessively. By the time he went back to the university (to study computer science), he started to develop his voice as a songwriter, often breaking in to the Fine Arts Building to play his wild, original music on a grand piano in the middle of the night. His subsequent jaunts led him to Westport CT, to perfect his bar tending and roofing skills and he settled for a time in New York City and Venice Beach CA for further forays in mixology and bar napkin poetry, among other 'jack of all trade' jobs, which then drove him to live off the land for a few years in a remote cabin on a mountain in Georgia. If his heart hadn't exploded at the age of 40, David reckons he would still be there... but chose to recover from his surgery in his hometown of Lafayette, Indiana.
David Corley has been scribbling down notes, ideas, and tunes by hand for as long as he can remember, secretly creating an expansive body of work that has consumed and kept him out of the public eye for a span of decades until this very moment in time. A voracious reader, David's songs were also inspired by his vivid dreams and classic literature he's been entranced with over the years by the likes of James Joyce, Walt Whitman, William Blake, and Rainer Maria Rilke, among many others.
At the age of 53, Corley was ready to release his debut album 'Available Light', a collection of original indie bluesy rock songs that encompasses the poetic landscapes of Corley's heart, as well as his life in rural Indiana and travels across the United States. It was a wild ride! He had the pleasure and privilege to work with some very wonderfully talented people, and that shows in the production value of the record. The names: Gregor Beresford (drums); Tony Scherr (bass, guitar); Kate Fenner and Sarah McDermott (background vocals); Hugh Christopher Brown (piano, hammond b-3, clavinet, wurlitzer, vocals).

Brown also produced, mixed and engineered the songs, taking them to a whole new level. He states: "David's music is so real and so unaffected - I know everyone who hears it will experience the same sensation we had making the album; that you are discovering something that's always existed, but new every time you observe it. I am so thrilled to play a part in bringing this album to life. Now you can too....." Hugh Christopher Brown even gets more enthusiastic and raves: "To say I was arrested by David's voice is a mild way of saying it almost eclipsed the majesty of his writing. The two elements combine as well and fountain, and the source seems eternal. I am fascinated by David's art; his language is as open as his phrasing. As mysterious as it sometimes gets, it's the farthest thing from arbitrary there is."

A successful KickStarter campaign raised a whopping 17.735 dollars for the final costs of printing, production, art, promotion, as well as playing and touring in support of the record. The goal was worded nicely: "These songs that have been crafted over a lifetime will reach new ears, delight new audiences and enable David to keep making his own brand of music for many more albums to come."
-----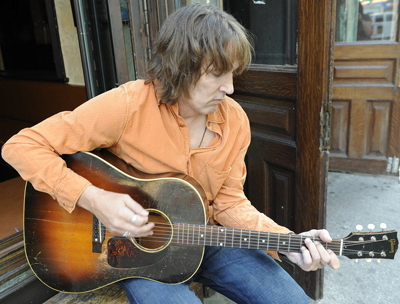 The title track opens the album, with interesting imagery from the art of filming. Quoting the info sheet: "From the opening notes and first words "pink clouds" of this song, David Corley's rich, raw baritone and imaginative lyrics ponder the immediacy of the passing of time as if he were on deadline to write: "The book / well it's a movie now / 'bout how I was busted up and laid-out / tried to grab this girl / she was goin' way too fast around / didn't understand quite how she was wound / but you know we wound up tight / and I shot it all / with the available light"."


Comparisons have been made with the usual names like Tom Waits, Bob Dylan and Leonard Cohen. I agree more when it comes to Tony Joe White and Lou Reed's "Dirty Boulevard". Listening to the second song, I know it: Jon Dee Graham's "Airplane"! Not with that surprising refrain, but with a pretty whispery female harmony vocal. From the info sheet: "On this atmospheric song, the evocative lyrics and music metaphorically address a place in which one gets immobilized, unable to take the leap into unknown or undiscovered country (the 'middle scientific heads')." David says: "I was living in a one-room apartment in a horse-barn in Indiana when I wrote this song, and I used to climb the fence, and lay in the field with two or three horses wandering around, and stare at the stars."


For "The Joke" we get some unexpected but pleasantly swaggering rock! Then back to relaxed speak-singing in "Easy Mistake": "The narrator of this track humanly and humorously grapples with any notion of 'trying to do the right thing': "I hopped up into my truck / but I headed to the wrong bar / got way too f***ed-up / started wishin' on the wrong star / but the sky, man, it's so large... / that's just an easy mistake." David Corley's expressive voice starts to tell his "Dog Tales", wrestling with a character who has 'crossed insane fields / beyond the bounds of all reason'. "Unspoken Thing" speaks of a time when David was living off the land in a log cabin in the mountains of Georgia for a number of years, exploring simplicity and silence. The ladies, Kate Fenner and Sarah McDermott, come up with beautiful duet and harmony vocals, especially in "Lean" and "Neptune / Line You're Leavin' From". While "The End Of My Run" comes closest to the works of Tom Waits and I just love that guitar intro...


Ten songs on a disc that plays for 54 minutes, that means most songs are quite lengthy! Bonus points for a fold-up inlay with hand written lyrics. It is always hard to keep tracks captivating, when the singer-songwriter isn't really in a hurry to go places, but I think there comes enough variety in the sound of the impeccable arrangements. Blues, rock, some folk and country, it fits the ragged vocal delivery of David and the final result is an atmospheric album.


It's a bit unusual, but definitely not the first time that a singer-songwriter debuts as a recording artist at a riper and more experienced age. David Corley made his own artistic statement at a moment that was exactly right for him. He states: "Music is my world, and I know that from of a lifetime of playing it."


-----

Written & compiled by Johanna J. Bodde - January 16th, 2015.

=====