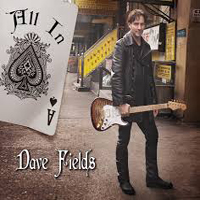 A fellow DJ gave me a promo copy of 'Detonation' (2012), the previous album by Dave Fields. That was a very pleasant first meeting with Dave's blues rock, it even featured a duet with Joe Louis Walker. Here he is again, with his fourth CD: carrying the same good-looking electric guitar (I bet she has a pretty name...), wearing a similar black leather outfit and biker boots. He just went from a back alley behind a boring office building to the basement entrance of a Chinese restaurant. And we're ready to listen to eleven new tracks!
---

Dave Fields ~ Electrifying Rock With a Blues Soul.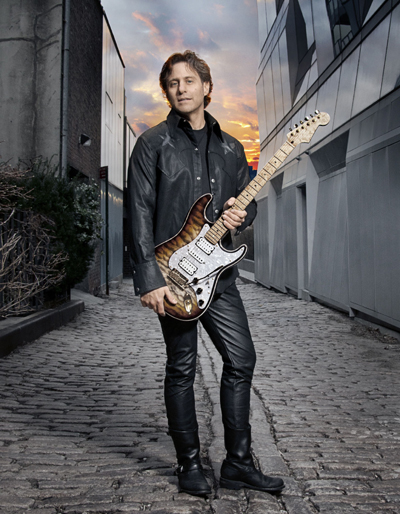 Dave was raised in New York City, the son of a noted and gifted composer / arranger / producer: Sammy 'Forever' Fields. From the time Dave was a young child he grew up in his father's recording studio being exposed to the likes of Sammy Kahn, Rupert Holmes and Stevie Wonder. By a nanny who was from Waycross (Georgia), an eclectic dash of Southern culture was mixed into Dave's persona. In a strange twist of fate, his sister Launa, a gifted musician in her own right, lost her hearing by the time she was fourteen. Witnessing his sister's struggles in a hearing world profoundly affected Dave. "After seeing my sister's agony from being discriminated against for her condition, I was determined to never let that kind of injustice happen again in my presence. I always felt that one of my missions in life was to be able to communicate with people and to listen to them. It's one of the beautiful things about being a human being. We all want to connect with one another". Nowhere is that feeling more evident than in Dave's music. His gift of making his guitar talk combined with his uncanny way of weaving many different styles of music together is an example of how we as humans are a fabric of many different cultures and walks of life. Dave says: "Growing up in New York City I was exposed to so many different foods, music, cultures… It was truly a melting pot of humanity. I believe I am the kind of artist that reflects what I see and what I'm exposed to. As a musician I was put on this this Earth to spread joy, love and life to everyone. I try to do that with every note I play, with every lyric I write and sing. If I do anything less than that I feel like I'm letting the listener down".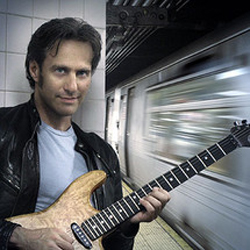 Dave's musical path has been quite a journey, after attending Berklee College of music, Dave was immersed in the New York City music scene as a 'first call' guitarist and multi-instrumentalist. Dave explains: "My Father made sure that I could play a lot of different instruments and styles so I could make a living. Unlike many blues musicians, I was raised to be a musical 'hit man'. I got to do sessions with many famous musicians and producers like Tommy James & Ahmet Ertegün (to name a few) and even was on staff of one of the top five jingle companies in New York, Look Music". But Dave was more than just a craftsman, his passion for music could not be satisfied with just being a writer for hire. Dave: "I made the decision in 2006 that I was going to make a stand in my life. That I was going to do what was really important to me. Honestly… I was too scared in my younger days! LOL! So I set out on my new career path, being Dave Fields the artist. Another thing was I had backed up and produced so many other artists and one day it dawned on me, why am I doing this for everyone else? Why can't I do it FOR ME!".

Dave has performed with the likes of Hubert Sumlin, U2 and opened for Blues Traveler. On May 20th, 2012 he was inducted into NY Blues Hall Of Fame along with John Hammond and Gary US Bonds. Lastly you can hear Dave's song "Train To My Heart" on legendary bluesman John Mayall's most recent CD 'Tough'.
---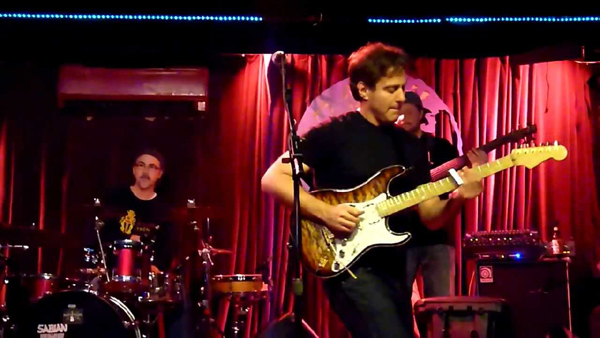 Dave's
TRACKS
:

Never before has the fire and intensity of Dave's guitar been captured in recording like it has on this new CD! Being recorded mostly live in the studio, it features many of the same musicians on Dave's first three CD's: Andy Huenerberg (bass), Kenny Soule (drums), Vladimir Barsky (keys), Dave Moore (drums) and some new comers: Tony Tino (bass) and special guest Dave Keyes (piano). As it is with all his CD's, there are many different flavors of Dave featured. This CD winds down a road that will take you to your limit and drop you in a place that will make you say, "Oh Yeah!"
--

1. "Changes In My Life": Now, THAT is a scintillating solo to start an album with! The track is recorded live in the studio - no chance to fake anything. We are with Dave in New York City, but this song sounds like it appears straight from the Southern swamps. "Gremlins that try to / sabotage the journey". Ah, I like the way this man thinks! But he's a warrior and he keeps going, 'cause happy days are just a breath away. Excellent guitar backed up by a driving rhythm tandem and the result is a solid opening track.

2. "Voodoo Eyes": Co-written by Sandi Rose, also recorded live in the studio, while Vladimir Barsky plays the organ. We stay in the South, the land of voodoo and femmes fatale, putting a magic spell on unsuspecting men with their spooky love. "The fascination washes over me..." While the classic rock washes over us, with Dave showing off and blazing away with some more skilled playing.

3. "Let's Go Downtown": Co-written by Billy Gibson and David Bowen. Just Dave's guitars and Kenny Soule's drums swinging in a funky boogie. Dave pays loving respect to his own city: "Taxicabs are jumpin'/ Hip hopping to the beat". I agree with a fellow music writer, if Prince -in disguise having a quiet drink in a club- would hear this, he would jump on stage and join in, no doubt!

4. "Dragon Fly": This is a quite different type of track. Dave holds back on his vocals in a somewhat surrealistic layered ballad at first. Only halfway the sound builds up in a symphonic way and drifts off again. Intriguing and beautiful. I didn't know dragon flies can bite!

5. "Cross Road": Yes, this is the timeless Robert Johnson classic. Dave wrote a fourth verse for this song. He built his interpretation obviously on Cream's legendary version, but goes even darker and all grunge and raw. His overwhelming guitar sound builds a trance-like feeling on the superb foundation of Kenny's drumming and percussion. I expect to see flames bursting from the guitar at any moment... Blues music is full of covers and fond imitations of the greats, but very few artists can make the umptiest version sound like a fresh 'new' song and Dave certainly managed to do that here.

6. "Wake Up Jasper": What a great playful uptempo shuffle! Dave Keyes plays the piano, but drowns here and there a bit in all the enthusiastic guitar sounds. Plenty of hot buzzing slide licks! Seems like Jasper doesn't want to go to school...

7. "Black Dog": A light and funky live version of the Led Zeppelin song, recorded in Norway, apparently with talented local players on bass and drums. It has been revamped and stretched out nicely to a delightful long (6m15s) version and Dave spices up his singing with a little wink at James Brown's moaning. The audience bursts out in well-deserved applause!

8. "Not Gonna Let You Get Away": Blues rock like it's meant to be. Another live in the studio track, with Vladimir Barsky on organ. Funky snarling guitar solos all over the place. The man as a hunter: "You might think / That you can't get caught / I'm sneakin' up behind you / Here comes my claws". Claws of a guitar tiger?

9. "Got A Hold On Me": We go back to the theme of the second track: he needs that girl and she's got a hold on him, like voodoo magic. I love this slightly ominous feeling in the dark resonating swamp rock with all the strong fiery solos and the fine organ, this is definitely another highlight for me!

10. "That's All Right": Co-written by Sandi Rose. A similar catchy funk sound as "Let's Go Downtown". The man tries to lure the girl to his 'little sugar shack' and then... Well, you need to listen to the lyrics what's supposed to happen next, or what he's hoping for.

11. "Lover's Holiday": A lovely unplugged little song to close off. A bit of soul and even a doo-wop chorus. This would be perfect in a movie, set in New York City of course.
---

There's lots and lots to like on this CD! A highlight in the genre. I don't have any remarks, not even regarding my lyrics pet peeve: the cover folds out and everything is printed inside. Dave is a passionate, versatile, kick-ass guitar player in the first place. This is his lifelong professional dream. From the fireworks to the heartfelt ballads. Not only playing the solid blues, but surprising listeners with his innovative rock, funk, soul and other influences. He writes and co-writes very good songs, he knows how to work a cover without imitations, he is a cool singer too. His band and guest musicians are great, playing their parts with lots of inspiration and real virtuosity. It is an ultimate musical joy ride, just don't get arrested!
As Hubert Sumlin (Blues Hall of Fame) said: "When I first heard him I knew he had something special. When Dave plays, he plays with such passion."
------
Written & compiled by Johanna J. Bodde - February 12th, 2015.
=====