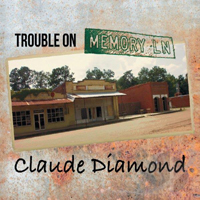 Claude Diamond introduces himself: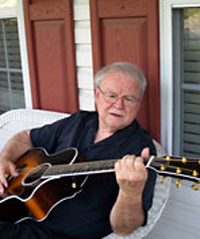 "I was born in 1938 and grew up in the small Southern town of Roxie, Mississippi. During the 1950's, I listened to country music. At night I could pick up a powerful radio station out of Chicago and for the first time I heard rhythm and blues by Jimmy Reed, Lightnin' Slim, Lonesome Sundown and Howlin' Wolf, to name a few. At that time, I was in high school and starting to play guitar. Then came television and I saw Elvis for the first time. That changed everything. The songs I write today reflect these influences.
When I started college, I met John Whitt and Dewey Kilgore and we started a band called The Ones. We played a variety of venues from honky tonks to churches. When I graduated from college, my wife Pollye and I, along with our two children, moved to Georgia where I worked for the State Government until I retired.
During the 1960's, I taught guitar lessons part time and during the 1980's I started writing country music and winning awards in songwriting contests.
In 2004, I decided to release my first CD of Americana/Roots original songs. This CD,
'Diamond Dust'
, reached #51 on the Americana Chart. It received airplay in the United States, Canada and Europe. "Half My Doublewide" won first place in the country category of the Dallas Songwriters Association 2003 songwriting contest and "Edge Of The World" won the Winter 2004 lyric writing competition. Both songs are on 'Diamond Dust'."
Claude's ALBUMS:

So you retire and start a new career? You do, if you are Claude Diamond. I got to know his music when we received his second album 'Highway Of Life' (2005) for airplay. My favorite song is still "Out On The Salt" with Skip Folse. The album includes eleven original Americana / Roots songs that are a diverse mix of musical styles including bluegrass, Cajun, blues and country. Claude writes and sings about the realities of life using both humor and sadness to tell his unique stories. Some are funny, some are sad and all are a pleasure to hear - great, original and written in a fresh style. Once you start listening, you will keep riding until the highway ends. For Europe 'Diamond Dust' and 'Highway Of Life' were released on one disc by Continental Record Services.

'On The Loose'
(2008) was the much anticipated third album from Claude Diamond. You will love this one too!
For this disc Claude wrote eleven new songs. A few of the characters you will meet: a car thief, a coal miner who sold his soul to the devil, an unlucky dude caught slipping around on his wife, convenience store robbers, a young guy locked up for selling drugs, an alcoholic searching for redemption and a singer-songwriter trying to pick the lock on the gated city of Nashville. But wait!! There's more!
The songs tell unique stories about the upside and downside of life using humor or sadness and sometimes both. While this album has its share of touching moments, it does not include the typical boy / girl songs heard on mainstream radio. If you're interested in music that raises the bar, this is it! The diverse musical styles on this album include country, bluegrass, rockabilly and blues.



-----
Claude's TRACKS:

'Trouble On Memory Lane' contains twelve original country and blues songs. Claude sings and plays acoustic guitar, while J. David Leonard sings background vocals, plays keyboards, bass, additional guitars and drums. The layout has a very nice vintage glow, I am always fascinated by abandoned buildings and this picture is great!

--
1. "Cadillac Road": The albums opens with a country swing tune, Bethany Olds guests on fiddle and I also hear a fine (slide) dobro. A great story about an aspiring country singer-songwriter, waiting his turn to ride on the Cadillac Road: "You can find his picture nailed upon telephone poles / He's playing tonight at the local watering hole."

2. "Trouble On Memory Lane": A melancholy ballad full of 'rusty old memories left out in the rain', again with Bethany's fiddle and a mandolin. J. David Leonard must have played many overdubs on various instruments, but the album sounds convincingly like it's done by a full band, my compliments!

3. "Duct Tape World Of Mine": This blues song has an excellent title, a fine percussive rhythm and funny lyrics. I especially love the part where Bethany's fiddle shrieks in disbelief, with the character's double take waking up in the morning with a hangover, next to 'what's her name'. There's also a wink at the double wide from Claude's earlier hit song.

4. "Baby Say She Love Me": We stay in the same vein, a classic country blues with some great acoustic slide guitar playing, Leigh Levinson guests on harmonica, while our character isn't so sure about the love of his obviously cheating 'baby'.

5. "Chrome Plated Hearts": A country song in sixties style, with some fine piano playing and an electric guitar part. Interesting lyrics about boys and girls, who dance in honky tonk bars on Saturday nights, then go to church on Sundays, in the meantime searching for a heart made of gold.

6. "Pawn Shop Gold": Another slow song with dobro, the melody sounding like a Townes Van Zandt classic, with a little "House Of The Rising Sun". "Reminding me that wedding bands don't have warning labels".

7. "Trouble Is Like A Bloodhound": What a prize winning song title! Slide dobro in a blues song, which was to be expected. The Diamond touch is now the modern cell phone ringing in our two-timing character's pocket.

8. "Blues Cadillac": A catchy uptempo blues track, K.C. Conte plays harmonica. "I pulled Jimmy Reed from the CD stack, he's blowing his harp in the Blues Cadillac". And he has more fine CDs in that car! Highlight on this album, with its very clever lyrics.

9. "God's Gated Community": A gospel tinged country song, with perfectly timed backing vocals by J. David Leonard. Again something that sounds like a forgotten song by one of the greats from the sixties, until Claude gives us his trademark wink. In Heaven he doesn't have to mow the grass or to bathe the dog and utilities are free. Let's talk about that big flat screen TV with all the movie channels...

10. "Saving Time": A slow piano ballad, filled with regrets of an old man. "I should stop and smell magnolias / And wild roses on the vine / But I stay to busy saving time". Heart wrenching sadness about a lost love, her name tattooed on his arm and old Mississippi friends gone before.

11. "Beyond The End Of The Road": I love that fierce kick drum rhythm for this rockabilly track! Slide guitar. Nice imagery too. A song that ought to be covered by some of the bands, that play well but use mediocre lyrics. You can come up with a few examples!

12. "Nothing Left To Say": An intimate country ballad, it makes me think of Merle Haggard, with fiddle parts by Robert Taylor. The subject is: songwriting!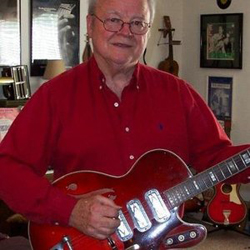 If you like music by Guy Clark, Billy Joe Shaver, John Prine, some old country and blues stars, please, make sure you also acquire Claude Diamond's music? This album contains lots of first rate smart songwriting in a fine stylistic diversity. These are story songs, that grab the listener's attention, real stuff that people can easily relate too. The little winks in the mostly light hearted songs give you a good feeling. One thing I'm missing here is a Cajun flavored song, something like "Out On The Salt", but that's just a personal detail. Claude Diamond is a master of his trade!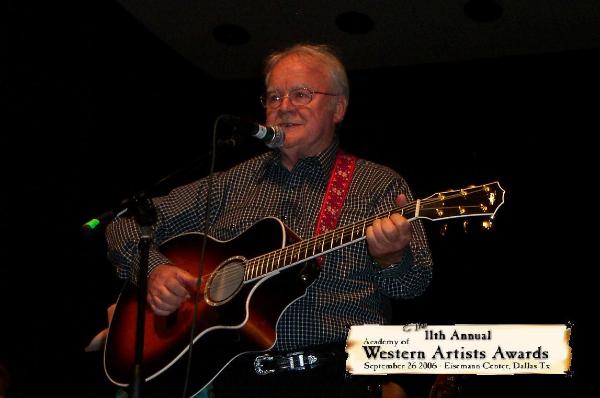 Claude's CONCERT
:

Claude performed his acoustic show in 2007 in the USA, France, England, Scotland and The Netherlands. In October of that year he opened for Dale Watson at the Arts Centre in Norwich and famed music critic Douglas McPherson wrote:

"If a lesson on the virtues of just being yourself were needed, it was provided by opener Claude Diamond. Possibly the gentle 69-year-old, accompanied by just his own guitar, was an unusual warm-up for Dale Watson's honky tonk audience - the room remained half full while he was on. But, for me, he provided the more compelling and memorable set. He first sang blues and rockabilly as a teenager in the '50s before taking a 45 year break to teach science and maths, work with disabled people and deal in real estate. And it's perhaps his background that gives him a unique combination of old timer wisdom and effortless presence without the burnout and bitterness of a life on the road.

Eyes twinkling beneath a halo of white hair, he smiled down at us with the sweetness of Santa Claus - and every song he bestowed was an early Christmas present: the funny one about the woman who leaves, taking half of the double wide trailer; the heartbreaking one about the woman who says nothing because her cases on the porch say it all; the moving one about the reformed alcoholic praying for snowflakes in Key Largo because that's when his wife said she'd come back. Each was so real you could touch it, and communicated so well that they held spellbound an audience hearing them for the first time.

A further ace was Diamond's guitar playing. Moving through country, Tex Mex, Cajun, blues and rockabilly, he didn't just play rhythm, he picked and soloed with the fluidity of a master. Diamond's real secret though, is the evident contentment of a life lived so well. Because all those sad songs are about other people. Diamond's wife of 50-odd years is beside him, selling his CDs, as he travels the world in his dream 'retirement' - and he exudes such happiness that just being in his presence is a life affirming experience."
Claude's BLUESY BLUES:

"Every generation has its music. I love the blues, especially the electric blues that was popular during the 1950s. Back in those days, every nearby radio station that broadcast a signal across Franklin County played gospel music, country music, and a sprinkling of popular music to sweeten the mix. The only blues music arrived under the cover of night from high-powered station in faraway places.

Blues records were hard to come by since retailers in Natchez didn't stock them on their shelves. Jukebox owners, those who purged their inventory of older records, were the only local source for blues recordings.

The artists I enjoyed most were Lightnin' Hopkins, Lonesome Sundown, Howlin' Wolf, Screamin' Jay Hawkins, Lazy Lester, and Jimmy Reed. Mississippi born Jimmy Reed was my favorite. Every wannabe bluesman on the planet, including yours truly, learned to play some Jimmy Reed. Towards the twilight of his career he would forget the lyrics to some of his songs, so his wife, Mary 'Mama' Reed, would stand by his side and softly sing the lyrics into his ear. One of my regrets is that I never attended a concert and witnessed Jimmy Reed play the blues.

While attending Co-Lin Community College, I met a colorful character who became a lifelong friend, John Whitt. John was learning to play the drums and I was learning to play the guitar. We both had a keen interest in performing blues music. Another guitar player, Dewey Kilgore, would soon arrive on campus and join us in our quest. After getting our noise-making act together, we started performing in and around Natchez. We also did a few KFNW radio shows across the river in Ferriday.

After leaving Co-Lin, Dewey headed for parts unknown, while John and I enrolled in Mississippi Southern. It wasn't long before we were performing weeknights at a smoke filled roadhouse alongside the New Orleans highway. We also made a few appearances on a locally produced TV country music show. In 1960, after I graduated from Southern, Polley and I packed our two children and everything we owned into our dark blue 1954 Desoto and moved from Roxie to Georgia.

Approximately forty years later, in 2004, at the age of sixty-five, I started performing again. Shortly thereafter, Pollye and I launched a record label and released my first album of original songs, 'Diamond Dust'. A second album, 'Highway Of Life', was released in 2005. During 2006, we struck a deal with a Dutch record label, Rounder Europe, to manufacture, market, and distribute both albums in Europe and the UK. As part of our arrangement, Polley and I went over and traveled around doing Rounder music tours. Being new to the business, we were very thrilled when interviewed by radio stations, and music publications, but the biggest thrill was meeting fans and performing on stage in Paris, London, Amsterdam, Glasgow, and many smaller cities in between. During our last tour, I had the pleasure of opening shows for country singer Dale Watson.

In 2008, I was invited to perform at the Juke Joint Blues Festival in Clarksdale, Mississippi. At that time, my friend John was having serious health issues. In spite of those issues, he and his wife, Nell, drove up from Dauphin Island to join Pollye and me at the festival. Towards the end of my show, I asked John to come up and play harmonica on a couple of Jimmy Reed songs. It was a wonderful flashback moment for the two of us. Who would have thought that John and I, since we had not performed together since 1960, would be playing Jimmy Reed music at a 2008 blues festival in the epicenter of blues music? What a wonderful experience for two old bluesmen. Sadly, that was the last time we would perform together. John passed away in 2011."



-----
Claude Diamond on songwriting:



TO TWANG OR NOT TO TWANG:

I didn't realize it at the time but my learning to play a guitar was an important step towards becoming a songwriter. Friends and relatives using the 'play by ear' method got me started. None were professional pickers, but I learned chord structure, how to hear a chord change and how to play and sing in different keys. I also bought a book by Mel Bay with chord diagrams and a few simple tunes. I soon discovered that learning to play a guitar, with a reasonable degree of proficiency, requires industrial strength determination. There are many accomplished musicians who play a multitude of instruments and fall into the category of self-taught. Think Jerry Lee Lewis. Don't be intimidated by those who are extremely talented. Press on with your instrument of choice. Without question, playing an instrument will enhance your song writing skills. Besides, it's a lot of fun. Get off to a fast start by finding someone who will help teach you to play by ear. A formal music-reading approach is not suited to everyone. Early on I performed with a country / blues band and would also play my guitar along with songs on the radio. Those experiences taught me a great deal about combining lyrics with music. Some folks suggest playing with a pick while some choose to finger pick. Try both techniques and decide which works best for you. Don't forget the bottleneck option. Finally, buy an inexpensive acoustic guitar with a low action. Many a guitar player wannabe has given up because of a torturous high action that is hell on the fingers! At some point you may opt out of the music game, if that should happen, it's best not to have a lot of money tied up in a wall hanger.



CHICKENS OR EGGS:

I usually write lyrics on guitar. If my guitar and I are not occupying the same space, I write the lyrics and develop the music later. Guitar players who don't write lyrics develop the music first… Duh! Which comes first, words or music is a personal thing with no same answer for everyone. Just do what works best for you. John Prine says: "Sometimes, the best ones come together at the exact same time."



EMOTE:

Lyrics should evoke some emotion from the listener. A song devoid of emotion is as drab as a life without emotion and who wants to hear that? Decide upon the emotion you want to elicit and construct a story toward that end. If you have the ability to write lyrics with the power to make the listener laugh or cry, you have a rare talent indeed. Paul Simon says: "If you can get humor and seriousness at the same time, you've created a special little thing." Sad songs may not be as desirable as up-tempo, happy face songs but don't hesitate to write them. You will develop faster as a writer if you explore a broad range of subjects and emotions beyond the always-popular boy/girl song. One suggestion: Include hope in your sad songs. Despair is not a very good subject for songwriters. By the way, funny songs are perhaps the most difficult to write. If you don't believe it, try writing one without being risqué or sounding amateurishly corny.



POINTS OF LIGHT:

Every songwriter should get involved with and become part of the songwriting community. If you can find the courage to perform - Do it! Participate in open-mike opportunities and other situations where you can get an audience reaction. You never know who may be listening. Get out there and make some noise!

-----
Written & compiled by Johanna J. Bodde - April 14th, 2015.