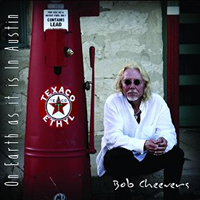 My first encounter with a CD by Bob Cheevers was in 2004: "One Man One Martin", the first recording he did with just vocal and instrument.
B
ob surprises us once again… This time by having the artistic courage to present fifteen new songs with... just his voice and his guitar recorded live. Well… there also were fifteen of Austin's most celebrated musicians stepping up to help him. Each of those musicians plays on one of the songs with Bob, giving them complete artistic freedom to play whatever part they heard on the song they were assigned. Magic was the result - and the album titled 'On Earth As It Is In Austin'. Bob tells: "As usual, the subject matter of the songs wanders thru a miscellaneous landscape of thoughts which include growing older, finding the partner of my dreams, sounding like Willie, living in Texas as well as looking back on a few characters and situations that are straight out of my imagination".

About the smart album title: "When I was on my 2012 Europe tour, my English guitarist mate Dave Greaves proudly showed me his guitar case with a bumper sticker that read 'On Earth As It Is In Austin'. It took me about twenty minutes to write the song that is now the title of this collection". Little did Bob know that those words and that song would serve as the guiding light on the road to this brand new and totally refreshing piece of art.
---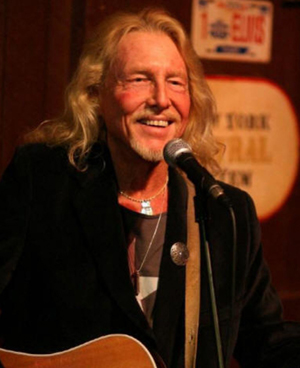 "I don't know if these stories are true... but they happened to me".

Having written over 3,000 songs with some of them heard on TV and in movies, Bob has toured Europe almost every year since 2000, doing 20-60 concerts per tour. He has also performed in almost every state in the US. He has been a music biz professional since the late 60's during his top-40-charting pop solo career in Los Angeles and with his band The Peppermint Trolly Company, which was the voice on the TV theme 'Love American Style'.

One result of his 1999 'Gettysburg To Graceland' CD making the Americana top 20 was being given an opening spot on what was to be Johnny Cash's final tour. Bob grew up in Memphis and got a soul full of music not only from the icons of his youth, such as Elvis and Johnny, but also from his mother who was a radio star in the 20's-30's during the big band era. After twenty-five years in the pop field in California and sixteen years as a journeyman writer in Nashville's country music scene, he now lives in Austin.

His new record 'On Earth As It Is In Austin', continues the Cheevers musical tradition of presenting characters from his past, present and vivid imagination… giving them lives full of love, doubt, hope, struggle and redemption proving that still today, songwriter Bob Cheevers continues to fine tune his musical voice spinning blues flavored tales of life in a conversational language of the heart.
-----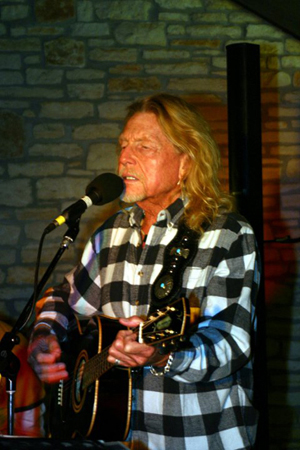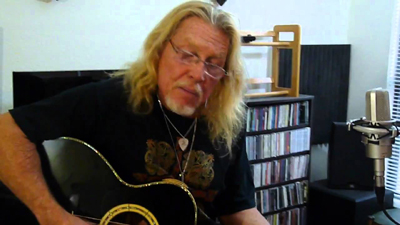 1.
"The Sound Of A Door"
: The start of more than one hour of music. A very fitting title indeed: an opening door! Walt Wilkins plays acoustic guitar. Bob sounds uncannily like Willie Nelson, well, that's his trademark.

2. "One More Nail": Wow, what an absolutely gorgeous guitar... That's Van Wilks, never heard of him before, sorry. He plays the acoustic twelve string slide, super! Great midtempo gloomy country blues, set in Las Vegas, it fits Bob's speak-singing here seamlessly. The nail is "one more nail in my coffin", by the way.Highlight!

3. "My Guitar, The Man In The Moon And My Heart": Folk ballad, very relaxed, with Stephen Doster on acoustic guitar. "My guitar wants to be a tree again". Big omission: there IS a booklet, but it doesn't contain any lyrics!

4. "My First Rodeo": The guest on this track, Slim Bawb, plays pedal steel and gives the thought provoking song an authentic country feeling. As Bob explains: "Each guest played on one song only, indelibly influencing the song's direction with their unique sounds and musicianship".

5. "Made In Mississippi": A classic bluesy number, Will Sexton (finally a better known name) plays acoustic guitar. Smart lyrics with lots of references in a great song!

6. "You Sound Just Like Willie": Bob must have heard that remark a zillion times... He sounds more like Willie than Willie himself! "I don't try to do it, it just comes out that way". Indeed, a nod with a dash of humor on a little Mexican waltz. Chris Cage's acoustic guitar even copies Willie's guitar style on old 'Trigger'.

7. "Snake Oil Man": A banjo as the guest of this track! Played by Dustin Welch. An impressive country blues, with an intriguing story about the sly travelling cure-and-remedy man. He always had something to sell and more lies to tell. I bet we all know somebody like that, probably without the snake oil...

8. "On Earth As It Is In Austin": The poignant title track. Bob's vision, about singing "Amazing Grace" with Willie and discussing the current state of the planet. "I showed him the house I grew up in, somewhere between Jesus and Elvis". Maybe one day the King will bring peace on earth, as it is in Austin? Fingerpicking virtuoso Bradley Kopp accompanies Bob on his acoustic guitar. This theme has been done many times before, best song still being JJ Schultz's dream road trip with Elvis in his Honda - eating bean burritos. I have to admit, this one comes close! That humming toward the ends is very effective.

9. "Falling Hard On Easy Street": An electric guitar sneaks in! Andre Moran, welcome. A strong song. I do like this concept of 'good friends playing together' a lot!
10.
"Creaky Old Bones"
: One of my favorite instruments: the accordion! Chip Dolan is also one of the best players around. I'm not too crazy about the reflective lyrics though, yes, everybody gets older every day - so what? You're just as old as you feel.

11. "Hey Hey Billy": This is an urgent sounding historic Western epos about Billy The Kid, adorned by Warren Hood's fiddle. I like Bob's own rhythmic guitar a lot, as a solid base of this song. He keeps being alert!

12. "West Texas Sundown": Bob's friend Jeff Tveraas plays the acoustic guitar. Creating the right desert sound, we just see the Texan miles and miles of nothing.

13. "Blue Eyes Always On My Mind": A very creative ode to old master Willie Nelson! Smart title dropping all over these lines. Acoustic guitar on this ballad by Greg Whitfield.

14. "I Don't Need A Thing": A romantic visit South of the border with Marvin Dykhuis, quite well-known in Europe from his tours with Tish Hinojosa, on acoustic guitar, of course with some Mexican influences.

15. "Paradise Lost": On electric guitar Charlie White, according to Bob: "My long time collaborator / guitarist Charlie White who abides in Arkansas". Atmospheric, as all songs situated in New Orleans, with some resonating blues infused sounds. Excellent last track!
---

One thing is for sure: Bob Cheevers will never stop singing. The troubadour will always be productive, finding inspiration to create new stories into sparkling new songs, telling about real people. Hard working, like a gypsy spending lots of time on the road, committed to his art, playing his genuine music. The Willie Nelson resemblance works fine for him, but even people who are not particularly fans of the man, will like this album a lot! The songwriting is top notch and thanks to all the talented guests, there's tons of variety and the music lovers who play guitar themselves will have big fun picking their favorite and figuring out techniques. A very entertaining album!

-----
Written by Johanna J. Bodde - January 27th, 2015.
=====