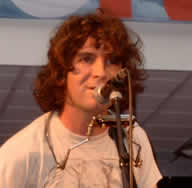 Legions of bands return to the USA after their innitial, but successful first European trip, claiming they got it made. Some believe in what they hope (Big In Iowa), some deliver years of hard work and persistent touring to really fulfill what seems to be the dream of alt.country bands and artists: Europe is the glory land. If they visit Assen on their first trip this is more than understandable:There are promising newcomers who get a warm welcome each and every year.
Tim Easton is one of them. With his uncombed hair and an old guitar he look like a busker who had been invited from the street. But I saw no hat, so I think he was on the payroll. He got a ,lot of credits lately resulting in an all-star-band on his new release 'Break Your Mother's Heart': Jim Keltner, Greg Leisz and Hutchinson from Bonnie Raitt's band (amongst others). In Assen his reception led someone shout 'Don't go back'. That led to a short-lived misunderstanding (he took the 'go' for a 'come'), But presented himself as a good natured boy with lots of humour.


I won't say David Olney hasn't got any humour, his hymn to his car's tyres as 2 cm which keep him from disaster proved he has. But even here: disaster's always around the bend and the grave is always near. So I file him under above-50s-songwriter-with-bad-past-and worse-future – maybe he reminds me of myself, though I am no songwriter.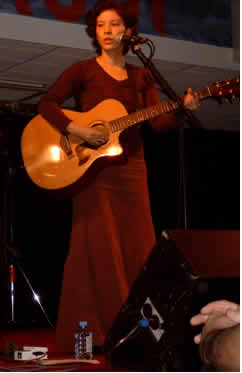 Mia Doi Todd sings: "88 ways to build and destroy. I dig my own grave. I carve my decoy" You think: Olney's temper again? With the mere exception that she's female and really young? There's more. The daughter of a Japanese-American judge and an Irish-American sculptor sings soft with minimal guitar backing. Even those who leave the show after 2 songs don't dare to whisper, take care not to touch any glass standing on the floor, don't drag their feet, stopp breathing and remain in complete silence. May I applause of does this disturb the performance. Strange atmosphere and strange lyrics too. She talks of complicated things (Once I was enslaved to a human being, my mother, my lover…What to do today now that I'm free), uses difficult words seldom heard in roots oriented songs (a murky mass of hydrogen helium voted to organize into higher elements) and cries out agressiveley nevertheless (In my age of anger, completed by female matters, I scream mutiny). Most elaborated lyrics plus minimalistic music sung by a classically trained singer. I high standard for the rest.
In Assen you have the choice between a main hall stage and an acoustic hall stage. So you miss a lot if you are into complete shows. So partly I took a show for a painting and watched all 12 apostles instead of leaving after the 5th or 7th (to speak with Michelangelo). Sometimes I drifted between the stages hoping to see the best parts. I think I did, at least there were no bad parts. I didn't see Jon Dee Graham, Sandy Dillon, Dayna Kurtz, Jesse Malin and Jennie Stearns. In the case of JD Graham I had an excuse, fort he others, there'll be a second chance.
3 years ago the festival had been opened by the Gourds, 2 years ago Blue Mountain entered the stage first. This time the job was done by Kelly Pardekooper and band, featuring Teddy Morgan. I had expected 2 singers making it less expensive by sharing a band, but that wasn't the case. Teddy Morgan was an integral part of the band, playing the guitar in a very entertaining, not boasting but explosive way. While Pardekooper's songs were straight, Morgan used his own songs as opportunity for some lengthy jamming. So they built a good contrast to Kelly's straight 3-minutes-tunes.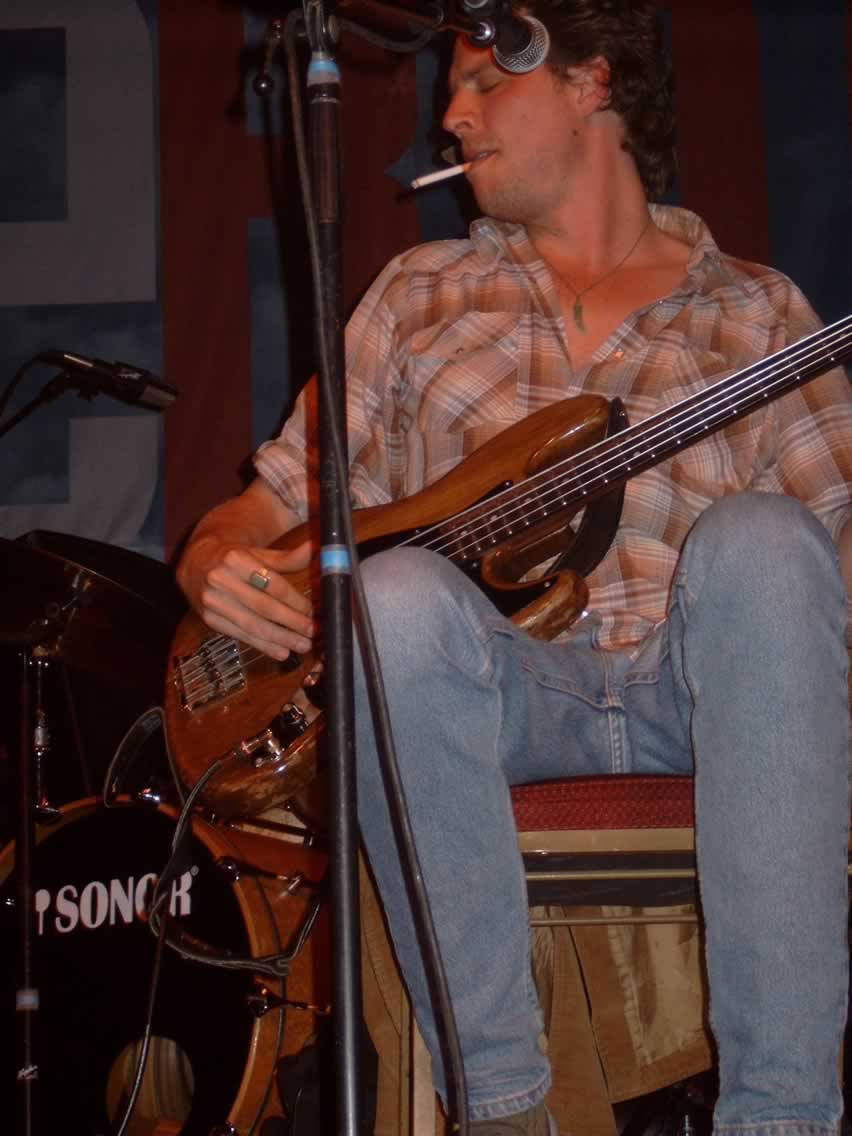 Highlight if the whole festival were without a douth : The Resentments. This Austin based band consists of Jon Dee Graham, Stephen Bruton, Bruce Hughes and Scrappy Jud Newcomb and their drummer Jim Chipman. On their forthcoming cd on Blue Rose drummer is the late "Mambo" John Treanor. But Chipman really did a tasteful job, and their was enough 'Mambo' too. Each and every Sunday when they're in town, they play the 'Saxon', the bar, where their cd has been recorded. each member has gained enough members has backing musician for a whole lot of country stars and starlets, Graham and Bruton sign responsible for some solo cds too. It's their combined forces that convince. Jon Dee serving on lap steel and Bruton on mandolin and guitar stand (sorry: sit) in line with Newcomb on guitar and Bruce Hughes on bass. They all sing solo and backing, which is nice to hear on songs like ''The long journey". Most convincing for me is how they create their mix of blues, folk, gospel and country and blend their guitars to a ringing sound. More than just an addition of indivuals, that's for sure.
What else: Walkanbouts were on after Vic Chesnutt, I wanted to see his gig completely, which spoiled both the Walkabouts and Cracker shows. To be honest: I prefer the smaller acoustic stage to the large main hall. You always find a place to sit down and get a much deeper kick than being amongst the large crowd. Vic Chesnutt: I had seen him before a few months earlier with his great band (the guys who recordwed 'Silver Lake'), but this was much more his show. Messing around on stage with his wheel chair and cables and wires, the show was delayed a bit: that resulted in a trather short 45 minutes gig. He only sang 6 songs (from 'Silver Lake'), but those were quite intense. He talked about 2 white swans swimming in a pond of shit, which seemed to really exite him. he even got more kicks when he told us that he saw these swans riding along with the tour bus. After the tour crew had complained that they couldn't see any swan from the back of the bus, he yelled back: Go to the 2nd floor. But their wasn't any, said the smirking Chesnutt.
If you have the opportunity to see 15 acts but won't be able to see 2 acts at a time (out of simple physical reasons) you have to decide. This decision I tok in favour and not against any artist. Olney was better than my words, Cracker rocked the house, The Walkabouts ..(I'm not sure if they were that good that night). I have seen enough of Stuurbaard Bakkebaard (being a non-Dutch-speaking-person I didn't get their jokes) but I surely didn't get enough of Grey DeLisle. All dressed in big wardrobe the band played a strange mixture of honky tonkin alt.country. The singer played electric auto harp, which may have been more a visual pleasure, but the band did know how to excite, weird guys with a great show. Wish I had been there all the time (which reminds me: Wish you were here was the most unusual cover.)
btw: Won't we meet again? In Assen 2004? I surely will be there.