TRUE WEST
"Hollywood Holiday Revisited"
(Atavistic Records)
It's only July, but this is already the most important re-release of the year. The most anticipated re-release for sure. Anticipated by all those dedicated True West fans out there, who still cherish their LP's, EP's and singles in weathered sleeves. Or if they weren't so lucky to get their hands on the original material, their worn-out cassettes acquired in the tape traders circuit. This CD contains the albums "Hollywood Holiday" and "Drifters" plus three tracks (produced by Television's Tom Verlaine) that were released earlier on the "Best Western" EP.

Wonderful, that the title of this re-release includes signature song "Hollywood Holiday", written by Russ Tolman. I first heard that song by Russ in May 1998, he was on tour with Sid Griffin and his Coal Porters and they played a small club in Amsterdam. A not exactly sober Russ improvised the song on his acoustic guitar and it got so quiet in the room that we heard icecubes tinkling in the glasses... My life was never the same after that evening and I still have the tape to prove it!

But True West happened much earlier, the band was formed in 1982 by Russ Tolman and Gavin Blair. They had played together in The Suspects, with Steve Wynn and Kendra Smith being the other members. They went through a few other bands, Meantime being the least obscure. In the end the collaboration resulted in True West. "At that point we were between U2 and Gang Of Four." They managed to recrute Richard McGrath, the local guitar hero on the Davis scene of the late 70's. They named the band after the play by Sam Shepard but it is also the name of a magazine with dirty stories about the Wild West. Strictly spoken True West (home base Davis / Sacramento in Northern California) wasn't part of the Paisley Underground scene. Russ tells: "It was funny: my connection with what was going on in L.A. was through Steve, because we stayed friends after The Suspects broke up, and Kendra also. True West already existed when the Dream Syndicate got going, but our sound was a little bit different and we were kinda moving towards what we ended up sounding like; it was kind of a progression, but we were encouraged by what was going on down in L.A. and it was kinda nice to be part of something, so we were really part of quote 'the Paisley Underground' and we never really intended to. I think at the point where Richard McGrath joined the band, the idea was to become like a two-guitar band, sort of a Westcoast Television - or our own twist on that thing; so that doesn't really play that much of a sixties thing at all. But writers need a handle to put on everybody that makes it easier to move you around, to talk about you, so we kinda got lumped in with the Paisley Underground."

In January 1983 True West recorded a five-song EP. Released on their own label, Bring Out Your Dead Records, named after a scene from Monty Python's "Quest for the Holy Grail". Russ asked Steve Wynn to help him produce. Steve: "I think the only way I produced that record was that I said: 'Turn the guitars louder, make them louder, make them louder!' I think it's what Russ already wanted to hear, but he'd feel better about it when someone else said it." And Russ mentioned in an interview: "He kinda pushed us into taking some chances that I probably might not have." The EP had loads of feedback and lots of noise: haunting "Too Many Steps To That Door", tribal stomp "I'm Not There" and third song on the A-side: the soon to be classic "Hollywood Holiday". Then there was the flipside with the Syd Barrett cover "Lucifer Sam" (earlier released as a single with a backwards version on the B-side), Steve Wynn playing guitar here together with Russ and a much slower song "It's About Time". Russ concludes: "It was pretty good. We put out the first EP and we went back to the New Music Seminar in New York and from there we ended up getting a booking agent and going on tour that Fall; very soon afterwards it did real well on college radio and so we played around the U.S. and it was good. Things started to happen really quick for us. Which was pretty interesting because I'd been playing in bands for four years and nothing happened so when they started to happen, they happened very quick and it was scary."

French label New Rose wanted to release the material in Europe ("Zis record will be bigger zan ze Gun Club!"), but only as an LP ("EP's don't sell here.") So they recorded three more tracks: "And Then The Rain", "Throw Away The Key" and "You", this became the album "Hollywood Holiday". It was also released in the U.S.A. and that resulted in airplay and interest in the band. From the Fall of 1983 they toured constantly, with different rhythm sections. The guitar duels became True West's trademark. Russ: "Richard was a real good guitarplayer and then you had also my noise-making. We kinda had this thing where I would make noise and that would irritate Richard into playing better and so sometimes it really worked out to be really good. There are some live-tapes that I've heard, where I'm just astounded, that my chart drops to the floor, how cool it was. But other times it didn't happen. It was like one of those things that when it yelled and happened we were a really great band and if it didn't yell and happen we weren't."

In the Summer of 1984 True West recorded a new album, "Drifters" was released in September of that year. Quite different from the rocking, intense and chaotic first album, slower with surprising influences from countryrock. In the studio they got the assistence of Sid Griffin and Stephen McCarthy (The Long Ryders) on backgroundvocals and Chris Cacavas (Green On Red) playing organ and piano. "The "Drifters" album was very nicely and cleanly recorded and stuff and I think the people liked the first record because it was really noisy and here comes the second record and it wasn't noisy at all. People didn't realize that we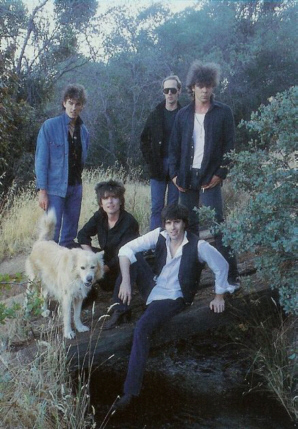 were trying to write nice songs here and they just heard the sound of the record and said: 'Ugh, this isn't noisy and stuff.' It wasn't as well received as we would liked it to have been. I think we made the same 'mistake' that the Dream Syndicate did with "Medicine Show". Even though "Medicine Show" was their best record, by far - at the time, people didn't understand it. We kinda had the same problem", Russ tells.


True West went on tour in Europe during the months of March and April 1985: Sweden, Norway, England, Germany, France and The Netherlands. "We toured constantly from about September/October '83 through the time I left the band, which was August of '85. We were on the road constantly, maybe we'd have a month off here, a month off there, but for most part we were in a van, going somewhere around the U.S. or somewhere around Europe." They weren't real friends, the disappointing reactions on "Drifters" and the frustration about not getting a major label deal caused tension in the band. All that touring didn't help much either. "We just basically spent too much time together in a van, travel around the U.S. and kinda got our hopes up real high and we were just kinda young and naive and stupid about all that stuff. But you kinda have to learn what you have to learn on the way of learning it. We toured a bunch; we tolerated each other at a lot of points. It really came down at the end that it was all those guys... and me. And I certainly had done a lot of stuff to alienate myself from those guys. By the time we did the tour with R.E.M. (we did a tour right towards the end with R.E.M.), we did eighteen dates in the Western part of the U.S. We were playing some pretty big-size places. I would have at least 24 beers at that point; that's a lot of beer to be drinking, so I was basically a drunken asshole. With a really big ego, because I thought: 'Oh gee, I am True West, and I'm the guy that writes all these songs and I came up with all these ideas. And the rest of these guys, they're good players or whatever, but they wouldn't know what to do with themselves if they hadn't me to direct them.' And there's a certain amount of truth in that, but not entirely truthful and they certainly didn't like to be told that, so I didn't make many friends", according to a very honest Russ Tolman.


The manager of True West was Connie O'Donnell, who changed her name into Noel Stephens. Manager, but also the long-time girlfriend of Russ, which was another complicating factor. Russ: "They came to us and said: 'O.K., you guys have too much control and we don't wanna do this anymore.' What actually they meant was they didn't want to do this anymore with me. And so they went off on their own and stayed together, made a demo-tape and found out that no one was interested in them unless they kept the name True West. So they started going into the name True West again, which caused some legal problems, because I had the most rights to the name, because I was the only original member of the band. We worked it out, had a little thing in court and we worked it out so that they could keep the name and I'd get a little money for it. They got a record deal and put out one more album "Hand Of Fate" and they did one more tour around the U.S. and nothing really happened for them and they got desillusioned again and disappointed again and they split up. And that's the end of True West." It was Labor Day weekend 1987.


And now there's this excellent re-release "Hollywood Holiday Revisited". The booklet features a wonderful collection of old pictures (the band under the sign 'Hitchhikers may be escaping inmates'!) and very informative liner notes by Russ Tolman himself, including an exciting story about working with Tom Verlaine, and by Jud Cost. So..., don't miss out on passionate guitarduels, dramatic vocals, intriguing dark lyrics and a whole lot of charisma! Let's hope & pray that a reunited True West (Gavin Blair, Russ Tolman, Richard McGrath with energetic drummer Jim Huie and bassist Ian Barrett), that already played successful shows in Portland, Seattle and San Francisco, plans a European tour soon!!


---
Written by Johanna J. Bodde, July 2007. (Thanks a bunch to friend & fellow fan Peter de Jong for various exclusive quotes.)
=====