Cultuurcentrum vanBeresteyn, Veendam (NL)
May 10th, 2008


We could get used to this, couldn't we? Going to a rootsmusic festival every Saturday night! No worries about transportation this time. Cultuurcentrum vanBeresteyn is only a few years old, the building contains -besides the theatre- a museum, library, art gallery and cafe. After collecting my ticket (Thanks so much for putting me on the guestlist, Jos, you're the best! Thanks to Bé for being the Veendam-link!) I meet in the foyer with the 'usual suspects', all the rootsmusic lovers from the area are gathering here. There should have been more people, but the weather is still warm, it's a holiday weekend too, others just returned today from their May vacation. Like DJ Thomas Kaldijk, his show Blueprint is broadcasted on two local radio stations and he's the MC of the festival. He had been looking for the sun in Tunesia, but the sun stayed here and he left this morning in the rain!

Behind the merchandise table I find my good friend Jos Starmans, owner of the quality label Inbetweens Records. We go back several years, we first met at a club in Amsterdam in 1998, both waiting for Russ Tolman and his 2 Car Garage Band driving back from Denmark. We went to concerts at 013 in Tilburg, but also to the incredible Neil Fest at The Justice League in San Francisco! The last time was Astrid Young (yes, Neil's sister) playing in Bergen Op Zoom, then we both moved: Jos went back to his hometown way down South and I went way up NorthEast, as we both don't drive the contact got limited to E-mails and phone calls. It's so grrreat to see each other again!!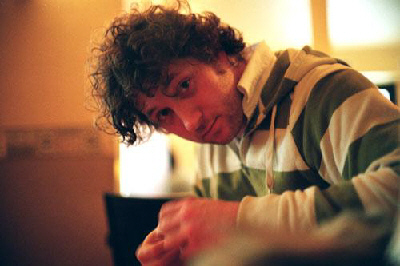 The festival is a showcase of Inbetweens artists. First up is singer-songwriter
BART OOSTINDIE
, accompanied by keyboardplayer Mike Roelofs.Thomas is very good as the MC, he did his homework! The big theatre room has rows of seats, tables with chairs and people who like to stand & walk around can do so too. Perfect sound, nice big stage with pretty lighting, even a smoke engine. And... affordable drinks. The drinks for the two artists are brought on stage by Shannon Lyon! Bart, young curlyhead in yellow t-shirt and torn jeans, specializes in beautiful bluesy ballads, like "Smile The Blues Away". The emotions shine through in his voice. He doesn't mention titles of his songs, the majority must be from his new album "Welcome To The Costume Ball", which is about to be released. In 2005 he made already a well-received EP, "Grandson". He tells cool little stories, he can do a lot of songwriting now, his girlfriend is on vacation, so it's quiet in the house! He lives in a small village, way down South in Limburg, where a Catholic procession with a lot of 'bling-bling' passes through every year. He always forgets the date, parks his car when he comes back from a gig and then after two hours of sleep they will ring the doorbell, if he can move the car so the procession has enough space to pass through. He even wrote a song about it! Mike adorns the songs with virtuoso solos, while Bart plays his acoustic guitar, left-handed! A love song and a song for his little niece and then an absolutely magnificent version of the ultimate sad song "St. James Infirmary"... Every act gets 45 minutes, so they close off with a faster one and Eric DeVries is asked to play harmonica.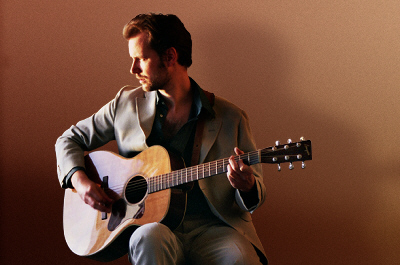 While
EDO DONKERS
and his band are being set up on stage, Thomas kills the time with a story about Billy Talbot (Neil Young's bassplayer, a cool singer-songwriter in his own right), Bart Oostindie and also Jos Starmans getting stuck in a real blizzard and a giant traffic jam on their way up to Veendam for a concert! I remember that night... Billy, in the first car, made it in time for a slightly delayed show, but Bart and Jos, in the second car, only arrived in the middle of the night when everybody was gone already! Edo plays with other musicians than the ones featured on his recent album "Warning Signs" (he tells about it elsewhere on this page). There is blond lady-singer Anna, pregnant and looking radiant in her little dress with flower print. Koppe and Sander play guitars, just like Edo himself, that means two acoustic and one electric. First song is new and catchy, "Teach Me Happiness", Anna sings a beautiful harmony part. Title track "Warning Signs" follows and it gets, just like "Last Junction Home" stunning slideguitar solos. By the way: on the album no less a musician than Stephen Bruton plays along! Edo explains that they had major guitar trouble, resulting in the fact that Sander now plays the acoustic guitar that belongs to Eric DeVries! I don't recognize this next one, it has a flowing, rippling melody and then a surprising slide solo. There's "Driving Down To Baltimore", the prize track on Edo's album and favorite among DJ's. It's a gorgeous ballad with a beautiful duet vocal, done by Anna here. A true story about an American friend, Edo has been to the States once, the friend was very unhappy then but happily remarried now. Great to hear about happy endings! And talking about driving, they came all the way from Amsterdam and Utrecht to play tonight. Uptempo "Reinvent Myself" follows, idealistic Edo is the perfect singer-songwriter, if they exist. In his day job he tries to protect the environment of the sea and he must be a part-time philosopher too, his song "Still Sheer Delight" was written on a Greek island and the topic is holding on to happiness. A quiet ballad, just Edo and Anna and Koppe on mandolin, even the man handling the spotlights is listening closely and adjusting accordingly! Wonderful show.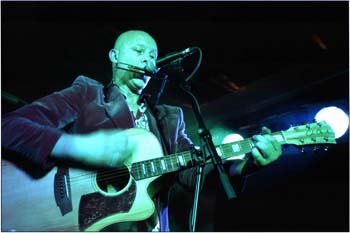 ERIC DEVRIES
steps on stage for his show, carrying his acoustic guitar and wearing his trademark black hat. Thomas does a short interview, mentioning that Eric's former band The Big Easy was a runner-up in the most important Dutch band contest: "Being second is better, you never hear from the winner again." Thomas also praises him for 'having one of the most beautiful voices in Dutch rootsmusic'. True. I once sat in for Thomas, a live-on-location radio show with audience, never done that before and Eric plus band were my guests, we pulled it off, a flawless show! Eric starts with "Don't You Think It's Time" and an unlikely song 'while the sparrows drop from the rooftops' is "Summer's Gone". "The guitar is busier than I am tonight", he says, struggling with his tuning and a capo, "Fred Eaglesmith had the same problem..." Yes, they shared a bill in Veendam recently. He takes his harmonica and he takes his hat off, "Like A Tin Can". That song had too many 'expensive chords' according to Eric but he will get reinforcement soon. One more song solo, "Sharon Says" and then Bart Oostindie joins him for title track and prize track at the same time off his recently released CD "Sweet Oblivion" (elsewhere on this page Eric tells about the album). It handles about the environment: "I want my cake and eat it too / And so there's nothing left for you". The solo gets a spontaneous applause, it looks real cool, the left-handed and the right-handed guitarplayer facing each other! Mike Roelofs jumps from the room on stage like a cat and plays along on "Lost To The Day", about a lady from a dream. Last song was recorded for Eric's first album, the "Ballad Of Johnny And Ginny", bar honeys being abducted by traveling musicians, yes, right! Bart's request turns out to be from the first album too, "Walk Back In The Rain". They end their set with an uptempo "Lose Myself". And who dares to say that Dutch musicians aren't as good as the Americans?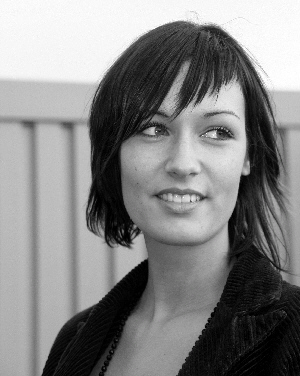 Too bad, that Mike Alviano couldn't make it. His name was originally featured in the line-up and I would have loved to hear him play live, but unfortunately he couldn't get his tour together. If an artist can't at least break even, then it's not worth it... Too many good singer-songwriters around, not enough places to play, this happens all the time, even to talented artists and very capable booking agents. A short break is filled with crappy popmusic over the speakers, that should have been some sort of rootsmusic too! We are waiting for
ASTRID
KUNST
and her guitarplaying companion Michel van der Zande, they had major car trouble on the A-6 near Almere. Luckily Astrid's Mom came to the rescue and they just left the broken down car behind! Astrid is a pretty young 'local hero' in a black outfit with fancy boots, now studying at the School of Music and what she brings us tonight is acoustic pop. O.K., I can enjoy that too, so does the audience. Her current musical education shines through, I always recognize that in the gestures and facial expressions, taking the microphone in the hand, using the stand as a prop, a little bit too much of it all but I'm sure she will tone that down later. The setlist is a mix of original material and covers like "Stranger" by her recently discovered favorite Tim Christensen, "I Don't Wanna Be" and "Ironic"! The dynamic show is ended by another original, "Sit Down", about use of drugs among students. It's not rootsmusic, but it's definitely not bad!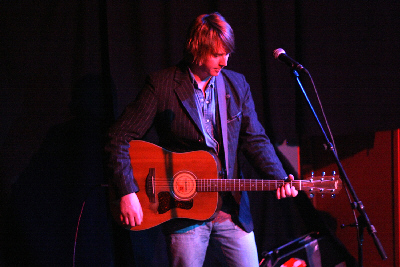 SHANNON LYON
does play rootsmusic! The Canadian singer-songwriter currently lives in Berlin, he also lived in The Netherlands for a few years. Thomas tries to interview him about his upcoming new albums, "El Sol" will be acoustic and then another one is going to be electric. He seems a bit distracted, as always and he still looks like the boy next door, with his trademark blond 'shaggy-dog' hair, no jeans outfit this time but the white pants show that he has put on a bit of weight! The acoustic guitar is finally in good enough shape and he starts to play. His one-of-a-kind throathy voice fascinates. "I just met these guys in the hallway and they're pretty good...", he introduces Bart Oostindie and Mike Roelofs, acting like he never met them before! This must be a joke, as Mike played on his album "Safe Inside", I know that for sure. (Review of the CD elsewhere on this page.) The audience calls Bart and Mike affectionately 'the boys from Limburg' by now and they can expect surprises, as Shannon says: "I'm going to throw a couple of loops at you... I don't even know the key on this!" That is beautiful song "Hallelujiah". "Down on the minor", he warns for a key change. "Someday Mourning" is the song he wrote on his bicycle, yes, he learned to appreciate the typical Dutch bicycle, which is even in the painting on the cover of "Safe Inside"! "December Song" with harmonica: "The only country song I play tonight. I wrote it for the girl of the North country, she moved to the South country." We're doing a lot of South and North exchange here too, tonight! Jos Starmans leaves his merchandise table to come up and sit next to me, bringing me a drink (Isn't that sweet?) and enjoying Shannon's concert. "I Believe In You", the musicians give each other space for solos, having a ball on stage, just like a bunch of kids! A new song and then "Willing Lies", dedicated to Jos, as he has been very supportive to Shannon. Well-deserved. "In B flat", Shannon points out and Bart does his thing with the slide. An older song, from the "Wandered" album, I hear about 'cold' and 'icycles' just like in an earlier song, it must be the rather high temperature that inspires to that. A new song to close off, inspired by his journey to Australia, feisty solos and haunting lyrics, this trio for the occasion sounds great - especially Shannon and Bart. Jos confirms that it's a joke indeed, they knew each other, although they never shared the stage together!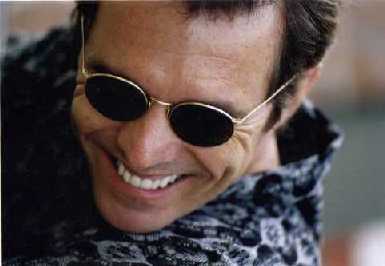 It's a quarter past midnight and we're waiting for
IAIN MATTHEWS
. I've been looking forward to seeing him live, I have a few old LP's in my collection, according to Thomas he made more than fifty albums, the man is no less than a living legend! He concentrates on playing concerts now, rather than making records and he lives in Limburg for eight years already. When his acoustic guitar is tuned to perfection he walks on stage: greyish hair, wearing simple beige pants with a rustcolored shirt, not exactly tall, as he has to pull the microphone down. He smiles and makes a friendly impression right away, by complimenting Bart and Mike for doing a damned good job, joking that they go on & off the stage like on a conveyor belt. Yes, the two musicians play with Iain too! He doesn't mention song titles and I don't know his whole impressive collection of songs, so forgive me for not recognizing the first song. I do know the second, "Something Mighty", Iain hums on the intro. What can I say, he sounds just as good as on all his albums! This one might be called "Funk And Fire", it's a very long storyballad with lots of soloing, about Iain's three favorite musicians, he goes back to 1953 and 1967, Janis Joplin is the last one, that's for sure. "I play you something you know". He turns very surprisingly Van Morrison's best-known song "Brown Eyed Girl" into a waltz and a serious love song. Ultimately cool. It's my all-time favorite song anyway, my late partner used to sing it for me, but I always heard it uptempo. Too bad Iain forgets the words of the second verse, he is helped along by the audience and explains later that this usually happens in a song you've played a thousand times. He tells stories inbetween playing, he lived in the U.S. for twenty-eight years but asks us to accept him as a fellow European. "I didn't fancy living in the UK, so I came to Amsterdam for a few months and I fell in love with the country." I heard there was also a lady involved, but anyway, he's pretty convincing. On his American farewell tour he played The Tin Angel in Philadelphia and only seven people came out to see him! He wrote a song about it, yes, that's what singer-songwriters do: "Is there anybody listening?" This is all great material... A song about bad news features a "lamb in armor", that's quite an image. In the meantime Iain looks around for something to drink, asks about the glass that was left behind by Shannon and after drinking what looks like water he makes the kind of face that indicates the fluid must have been a lot stronger! Before playing "To Be White" he asks if we are happy too, that the Bush reign is about to end. Of course we are. He explains that, although not politically inclined, the president drove him to such frustration that he wrote a couple of songs about him. That's the old-fashioned (and I mean that in a good way!) protest song. "Call The Tune" from his Plainsong days -the group is not officially dead, yet- is played and then a song about prejudice, pithy guitarplaying with speaksinging, probably called "Back Of The Bus".
For the finale at 1.30 a.m. Shannon Lyon and Eric DeVries return on stage, are urged to play their guitars too, so that adds up to four acoustics plus one keyboard. When Shannon leaves his beer unattended for a minute, it's 'bottle-napped' by Iain and Eric, who both drink half of it... What are they going to play? "Money Can't Buy Me Love...", the audience joins in and claps along. For the encore they are 'trying to hack something', Shannon shows the other guitarists the chords and the result is "I Believe". Thomas sends us off into the night with a few friendly words. Bart, after playing for all these hours, has to do the driving back to Limburg... And who knows when I will see Jos again? One thing's for sure: we all hope there will be another Roots Festival in Veendam next year!!

---
Written by Johanna J. Bodde - May 12th, 2008
=====