MARISA YEAMAN talks about "Pure Motive"


(Deep Pearl Records)
www.marisayeaman.com and www.myspace.com/marisayeaman

INTRO:
It was almost a ten year wait to make my debut album. I've carried the vision of it in my mind for a long time. I wanted to make a really organic album, with live musicians and passionate performances, sparseness and honesty. I wanted to create an album that gave something timeless to the listener other than something to tap their feet by, not three minute pop radio songs, an album like the one's I enjoy... a songwriters album.

WATCHING FIRE BURN
This song tells the story of a disillusioned woman who finds herself living a life that is very different to the one she had dreamt for herself as a young girl, so she decides that it is time to make a rash change. I wrote this song with Andrew Pendlebury who co produced and also played many and assorted guitars on the record. I had the character for this song in my head for quite a while. I thought that I had written the song, and then early one morning I was driving near an abandoned railway line, where out of the corner of my eye, I saw a woman walking her dog in the dawn mist. Needless to say I pulled over up the road and wrote, finding the lyric finally came out almost in one stream.

HOLY WATER
I was born in the riverboat town of Echuca, it is a town surrounded by Levee's. I guess it's talking about how falling in love is like a Levee breaking, we protect ourselves with defences, but when we fall in love we come to realise the vulnerability of our position. Andrew and I recorded it live in the studio. Ron Tabuteau added some fantastic Dobro work to this track.

VACANT SIGN
I love the sense of space and distance in the song as it is about the sense of desolation left at the end of a relationship. We decided to go a bit experimental on this track, and I really like the result, psychedelic acoustic!

NO FENCES
In the Australian Outback you can travel for miles through large cattle stations. There are very few fences, just open space. This song is about my childhood memories of being out there, and how as a child the world feels so big and full of possibility. It's also about my father and the legacy he left behind.
The more I sing and play this song, the more it takes on other meanings, it grows and evolves. We can apply the same metaphor to life in general and the way we treat each other as human beings. The purpose of a fence is to contain and divide things. There are too many fences in society between races, the sex's, economic status, religion etc, and I believe it's all in the way we as individuals draw fences in our minds. On a more intimate layer it's also a song about not limiting our dreams.
Dean Addison and Bon Krunic provide a classy rhythm section that lets the song breathe nicely.

SOLID GROUND
I wrote this song about Bob Dylan. It's a light-hearted song about what it must be like for Bob himself to be looking out at the world. I remember that the day we recorded this it was very hot, about 38 Celsius, and we were crammed into a small studio (with no air conditioning) to record it. No one complained about the heat. We must have been having too much fun!

KING TIDE
I wrote this song with Andrew Pendlebury, who's guitar work on the recording is sensational It like a dialogue between the guitar part and the vocal. It's sparse and honest.

DIDN'T MEAN TO FALL IN LOVE
We did a really country treatment of this song on the album. It's kind of pays homage to the Country Music sounds I heard as a kid through outback and Australian Country Radio. The song is about how love can surprise us at anytime in life and how it can rewrite the plans we have for ourselves.

LONELY PUPPET
I started to write this song on guitar and then I finished this song on piano. The fabulous Matthew Vehl came in to play the piano on the album and we recorded it live in one take. It's an intimate song, and performance sounds intimate, right down to even being able to hear some of the pedal sounds from the piano.

DAMNED IF YOU LOVE ME
A song about sensing that the end is coming for a relationship, that point when you start to feel one party drifting away, and knowing that nothing that you do or say can change the outcome. I especially love Ed Bates's pedal steel work on this track which weaves beautifully in and out, creating a great sense of yearning to the track. It also features a guest backing vocal by Colin Wynne who was the Engineer on the album.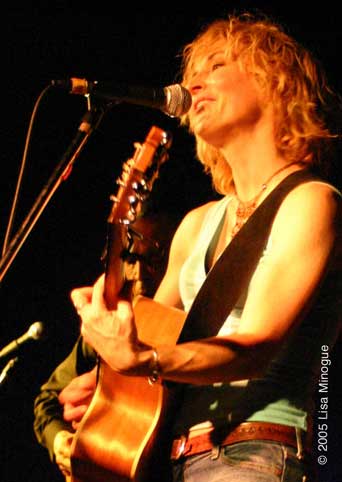 NIGHTSKIN
A Bluesy number about sex, attraction and vulnerability. The great Dave Steel adds the most haunting harp playing to this track. It's best served late at night with a glass of red wine. Co-written with Andrew Pendlebury.

LITTLE GIRL LOST
As adults we begin to think we know everything about ourselves, that we are in control of our lives, then we can meet someone who changes it all and makes us feel vulnerable like a child. This is about trying to resist the pull of attraction, only to fail miserably for all the right reasons. It's about stepping outside our safety zone and risking, and the inner battle we have with ourselves to do so.

ANOTHER DAY
I wrote this song about the loneliness of being away from someone on the road. I think this song stands as great testament to all the fantastic players who worked on this record, a dream band, and I especially like the great backing vocals on this track which were done by my good friend Marcus Goodwin.

GASOLINE & FIRE
I've long been a fan of the German Cabaret sound of Bertolt Brecht, Kurt Weil and European Street Music. Andrew Pendlebury and I recorded this song as we were playing it spontaneously. I don't profess to be an accordion player, I was just colouring sounds to Andrews playing. I wrote the lyric in the spirit of Latin music, which walks the balance between love and tragedy, about great love and great pain and the precarious relationship between the two. The original recording was used on the album.
=====