CAROL LAULA
"To Let.."
(Acoustic Roots)
www.carollaula.co.uk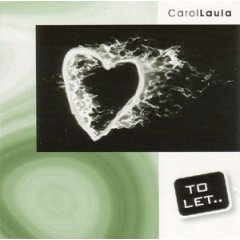 It can just be so simple... A Voice, belonging to the Scottish lady-singer Carol Laula. A fascinating burning heartshaped figure in central position on the inlay: Carol sings like everything comes straight from her heart. A title, "To Let..", probably pointing to the fact that mainly covers are performed here. Then one needs a virtuoso producer, Stuart MacLeod, who also plays a variety of acoustic stringed instruments, a few extra vocals are added and voila, this beauty of an album is born!









A comparison between the vocals of Carol Laula and Joni Mitchell is easily made, but Carol sounds sweeter and knows how to create a more intimate atmosphere. We had never before heard of her, but in Scotland everybody knows her name. She made her first single in 1990 on the occasion of Glasgow's cultural year, three albums followed and her concerts earned Carol a "Best Performer"-award at the Celtic Connections Festival. She played Carnegie Hall with Mary Chapin Carpenter and Sarah McLachlan, but also still asks if her audience has any requests!
After a break of some years, to complete her studies at the university, this is already her second CD. Although she's listed as a singer-songwriter, we find here "Home To Sister" as the only self-penned song. Plus another fourteen well-chosen tracks, by unknown -cleverly made "Crocodile Cryer" (Martin Stephenson)- and known to famous names: "Hallelujah" (Leonard Cohen), "Good Times" (Edie Brickell), "Broken Inside" (Lori McKenna) and a glorious "Wasn't Born To Follow", that easily equals the version of The Byrds!
(A new album was released in the meantime: "Carol Laula's Kitchen Stories".)
---
Written by Johanna J. Bodde, Dutch original of this review previously published on Real Roots Cafe, The Netherlands.
=====