BILL NOONAN BAND
"Catawba City"
(Self-Released)
www.billnoonanband.com
www.myspace.com/billnoonanband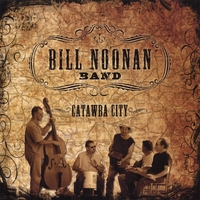 Duane Jarvis says about him: "Bill Noonan knows when and how to sing it sweet. He also knows when it's time to peel the paint off the walls." And an even better quote comes from David Childers: "If it were not for Bill, I would probably still be a sleazebag lawyer hustling rear end collisions and drunk driving cases... He has a lot of passion, soul and dignity." David even called his latest album with The Modern Don Juans after one of Bill's songs "Burning In Hell". While both Duane and David have made it to the big Americana festivals, we didn't even know Bill Noonan...

Which is about to change with the arrival of "Catawba City", an album loosely based on a theme: the disappearance of that small town way of life, people try not to change while their home town is changing all around them. Bill was from 1990 until 2002 the leader and main songwriter of The Rank Outsiders, rootsrock pioneers from Charlotte, North Carolina. He took his longtime friend Bill Walpole (slide & pedal steel guitars) with him when he started his new project and also former Rank Outsider Ray Mitchell, one of those rare singing drummers, who anchors the Bill Noonan Band with power and tempo. Then there's bassist David Kroening and percussionist Dillard Richardson, while Bill himself is known for his fiery Telecaster chops, he also plays harmonica and mandolin. Their musical styles range from country & western, folk and blues to traditional rock&roll. The energy is important and also the regional themes and colors.

First track "Big River" is definitely a good opener with its driving rhythm -a very strong drummer indeed-, beautiful harmonies, a guesting fiddle (Ivan Strunin) and last but not least Bill's voice with warm timbre. Two ballads follow, "Lakota", intro on acoustic guitar, sung closely into the microphone, featuring pedal steel guitar, just like "Greener Pastures", which also has a few harmonica accents. Then we're ready for another highlight: "Breakin' Even". There's indeed the electric guitar tearing the wallpaper off in catchy rhythmic rootsrock, with a touch of Southern rock. Solid arrangement with the drums (again!) and the harmonica. Bill writes simple lyrics, I hear some real good lines here though: "Now I'm headin' back up across the border tonight / And there's twisters from the clouds bein' born / Gonna unleash wind and sideways rain / And hail that'll flatten the corn / Leave you with a roarin' lullabye / And disappear before the dawn."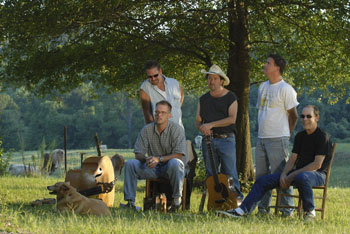 A bit too much old-fashioned countryrock added to "Big Enough To Hide In", but the song stays close to the album's theme: "Every cul-de-sac that you pass by / conceals the ghost of some former life." Heart of the CD is "Get Off My Land", emphatic, barely hidden rage ("I'll speak my mind with a buckshot load") in the story of an old man, the last one along the road, making a stand when the developer comes in to measure the land. Absolutely great lyrics! "First Things First" turns out to be a Cajun-flavored song with guest on accordion Jean Prewitt, the fiddle again and I even hear a tambourine and washboard, although that's listed as "percussion". I always love this sound... "She Was Mine" winks at those sixties highschool rock&roll bands, full of energy and cool (slide-) guitarsounds. While "Melanie Melanie", although featuring an acoustic guitar, has the same vibe and the same type of teenage love story. Love in "Redneck Pride", where the pedal steel guitar comes back and the leadvocals are done by drummer Ray Mitchell, isn't just as easy: "She was born a rebel / Back in '59 / In a tobacco town / On the Virginia line / Where the railroad ran / Along the highway side" and her redneck pride was hard to handle!

More than seven minutes long "She Only Comes Around When The Moon Is Full" is mysterious for sure, the infosheet states that it "seems haunted by the spirits of Neil Young and Roy Orbison", I don't need to add anything to those adequate words. Although I also like that comparison with "a gentler Drive-By Truckers". The title song "Catawba City" arrives last, vocals with acoustic guitar, fiddle and mandolin, theme of the album played out to the fullest: "I've spent most of my life in Catawba City / Watched it grow from a dirt-track town / To a playground for the rich and pretty / Change is here and it ain't gonna stop / I'm just holdin' on to what I've got."

According to the map underneath the disc, Catawba really exists, as a town situated somewhat South of Charlotte. The Bill Noonan Band hangs out, very relaxed, under a big tree with their dog. No high-brow whatever, they're exactly what they claim to be: rootsrockers from North Carolina, loving their music (we do too!) and genuinely concerned about the future of their "Catawba City".

-----
Written by Johanna J. Bodde, June 2007.
=====